Russians Switch to Bonds on Rate-Cut Bets as Stock Trading Flops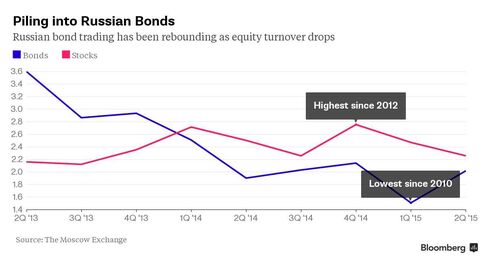 Russian bond traders are closing in on equity investors as interest-rate cuts drive the biggest debt rally this year.
Turnover in bonds on the Moscow Exchange climbed 5 percent in the second quarter as volumes in stocks slid 11 percent, according to the bourse's latest figures. The shift from shares into the debt market happened as easing tension over Ukraine cut equity volatility to the lowest since before Russia's incursion into Crimea, giving traders less opportunity to make profit by buying and selling stocks.
Instead, they're turning to bonds on speculation slowing inflation will give the Bank of Russia scope to keep lowering borrowing costs that have already fallen 5.5 percentage points this year. Some of the flows into the debt market are coming from the $10 billion of pension money that the government froze in 2013 and started releasing in May.
"We make more money off bond trading and are forced to get more creative with equities," Evgeny Shilenkov, the head of trading at Veles Capital LLC in Moscow, said by phone on Monday. Veles traded 40.4 billion rubles ($715 million) of domestic government bonds in June, the second-largest amount on the market, according to the exchange data.
Client Appetite
Before the crisis in Ukraine deepened in 2014, volumes had surged a year earlier as foreigners were given access to trade government bonds, known as OFZs, via Euroclear SA. Bond turnover tumbled 46 percent in the second quarter of 2014 to a three-year low, while stock volumes jumped 18 percent as traders sought to profit from price swings.
The shift toward bonds this year has taken place as the ruble rallied the most globally, giving the central bank room to unwind last year's emergency rate increases. While policy makers have already reduced benchmark borrowing costs to 11.5 percent, analysts surveyed by Bloomberg project another 215 basis points of easing by year-end.
Anna Kuznetsova, managing director of the securities market at the Moscow Exchange, expects investor interest for bonds to continue growing this year while their appetite for equities will depend on the market situation, she said by e-mail.
Local-currency sovereign notes have handed investors 30 percent gains in dollar terms this year, beating the 15 percent advance for the RTS stock index. The ruble weakened 0.8 percent to 56.862 per dollar by 6:18 p.m. in Moscow on Wednesday.
"Rate cuts, the inflow of pension fund money and revival of new debt issuance have revived appetite for bond trading," Shilenkov said.
Before it's here, it's on the Bloomberg Terminal.
LEARN MORE