Qatar Sheikh Hamad Keeps Taste for Trophy Deals After QIA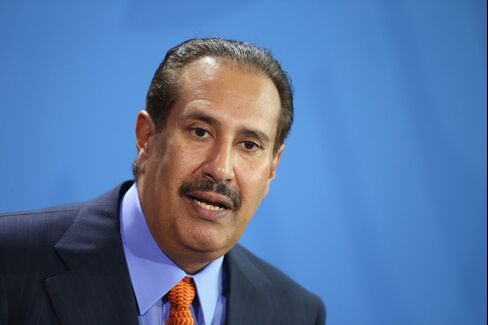 While most sovereign wealth funds in the Gulf are moving away from European trophy assets, Sheikh Hamad Bin Jassim Bin Jabr Al Thani is sticking to a strategy honed as head of the $250 billion Qatar Investment Authority.
The former Qatari prime minister is taking a 10 percent stake in Spain's El Corte Ingles, western Europe's largest department store owner, adding to an agreement last year to inject 1.75 billion euros ($1.94 billion) into Deutsche Bank AG. He's also taken over Jersey energy company Heritage Oil Plc. as he builds his portfolio as an individual investor.
While Sheikh Hamad continues to pursue prestigious European investments, the fund he once headed is heading away from its strategy of buying stakes in European companies such as Barclays Plc and Total SA. The QIA - and other Gulf funds - are looking increasingly to Asia to capitalize on the region's growing population and economies, with Qatar saying in December it plans a $10 billion venture with China's Citic Group.
"There's less of a focus on high profile trophy assets generally and more of a focus on investing in drivers of international economic growth," said Nick Tolchard, head of Invesco Middle East. "These changes are coming as the funds move on from the financial crisis and have focused on risk management and strategic asset allocation in a low-yield environment."
The QIA on Monday said it will partner with Singapore's CapitaLand Ltd. to set up a $600 million serviced residence fund. It also agreed to pay HK$9.3 billion ($1.2 billion) to buy a stake in Hong Kong billionaire Li Ka-shing's electric utility last month. Abu Dhabi Investment Authority joined a group that is planning a bid for Australian electricity assets, people with knowledge of the matter said in April.
Distressed Sellers
These deals contrast with many done during the global financial crisis when Persian Gulf funds were valuable sources of capital to distressed sellers in Europe and the U.S.
The QIA bought well-known assets such as the Shard skyscraper in London and Harrods department store, and stakes in Volkswagen AG, Credit Suisse Group AG and Barclays. Abu Dhabi Investment Authority bought a stake in Citigroup Inc.
Sheikh Hamad was ousted as prime minister and head of Qatar's sovereign wealth fund in 2013. He invested in Deutsche Bank through his Paramount Holdings Services Ltd. last May, while his Al Mirqab Capital SPC vehicle's offer for Heritage Oil Plc valued that company at 924 million pounds ($1.4 billion).
Latest Deal
With his latest deal, Sheikh Hamad said he wants to stay with El Corte Ingles and support its development strategy. With stores in some of the most-desired locations in Spain, El Corte Ingles is renowned for a broad offering encompassing jewelry and stockings to airplane tickets and vacuum cleaners. Scores of salespeople dressed in red blazers attend to clients.
Qatar doesn't reveal the size of its assets, but the London-based Sovereign Wealth Fund Institute estimates its holdings at $256 billion, making it the ninth largest in the world while ADIA ranks second with $773 billion. Norway has the largest sovereign wealth fund, according to the institute.
"Funds are looking more at emerging markets and investing in private equity, real estate and infrastructure in places like Africa and India," said Brad Whittfield, associate director of sovereign wealth funds and private equity at KPMG in Dubai. "There's an increasing risk appetite and willingness to search for greater returns."
Before it's here, it's on the Bloomberg Terminal.
LEARN MORE