Podemos Backtracks on Aim to Restructure Spanish Public Debt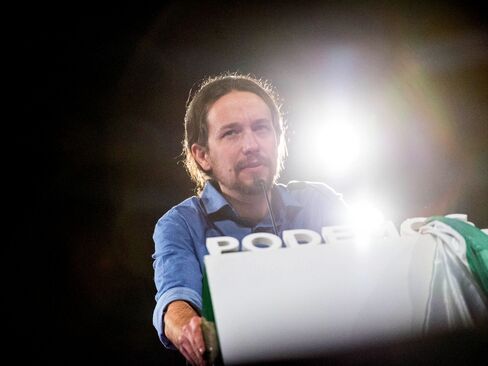 Spanish anti-austerity party Podemos backtracked on a pledge to restructure the country's public debt, saying it may not be needed.
"In Spain, putting an end to austerity doesn't imply a unilateral debt restructuring -- it's not necessary," Nacho Alvarez, head of economic policy for Podemos, told reporters in Madrid. Instead, the party is looking at private debt relief, including a possible restructuring of household mortgage debt, he said.
Podemos's leader Pablo Iglesias previously highlighted the need to restructure Spain's 1.1 trillion euros ($1.21 trillion) of debt, matching rhetoric from his allies in Greece's Syriza party as he primes his new party to fight elections later this year. Greek Prime Minister Alexis Tsipras of Syriza earlier this week capitulated to creditor demands, accepting a fresh dose of austerity measures in return for a bailout to allow the country to stay in the euro.
Having praised Syriza's manifesto, Podemos now argues the two countries are in a different situation and require different solutions to end austerity, Alvarez said.
Alvarez played down the political implications of the Greek deal for Podemos in Spain's general election due later this year, arguing that it was a failure for the European project, not his party.
Before it's here, it's on the Bloomberg Terminal.
LEARN MORE