Oil Rout Idling Canada Factories May Force Second Poloz Rate Cut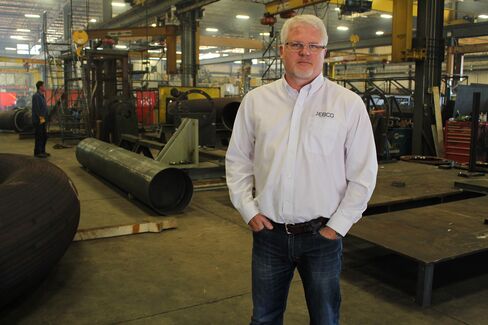 Brett Murray has a million pounds of steel plates sitting on the floor of his plant north of Toronto. The chief executive officer of Jebco Industries Inc. has to figure out what to do with them after Royal Dutch Shell Plc canceled a major equipment order last week.
The project was put on hold multiple times before being scrapped, contributing to a 20 percent decline in sales for Jebco as Shell and other companies in Canada's oil patch cut investments following a slide in crude prices.
"I'm very stressed about it," Murray, 49, said. The factory in Barrie, Ontario, about the size of three football fields, makes everything from holding tanks to pipes. "Our issue is how do we fill the void with oil-sands projects, which has been driving our economy for the past five years?"
Canadian factories, already struggling to capitalize on a rebound in U.S. growth and a weaker currency, are now hurting at home as the impact of the oil rout spreads to firms in Ontario and Quebec that supply the energy industry.
The weak manufacturing sector adds to concerns that the world's 11th-largest economy slipped into a recession and may prompt Bank of Canada Governor Stephen Poloz to cut his policy interest rate Wednesday for the second time this year.
"We have noticed a slowdown in the oil and gas industry and it's having a ripple effect," Dan Tadic, executive director at the Milton, Ontario-based Canadian Welding Association said in a telephone interview. "We are seeing a general slowdown in the economy all over the place."
Energy Suppliers
Canada's oil sands were once billed as an avenue for growth for a manufacturing sector increasingly priced out of international markets despite a 16 percent decline in the currency over the past year.
More than 1,100 Ontario companies directly supply the oil and gas industry with construction, manufacturing, transportation, warehousing, financial services and environmental consulting, according to a May editorial from Tim McMillan, CEO of the Canadian Association of Petroleum Producers, published in the Globe and Mail newspaper.
With the oil sands gearing down, so are many of those factories.
Gross domestic product contracted at a 0.6 percent annualized pace in the first quarter and unexpectedly shrank a fourth month in April. The May trade deficit swelled to the second largest on record, Statistics Canada figures showed.
The data contradict Poloz's view in a May 19 speech that his rate cut was aiding a second-quarter rebound and that non-energy exports would be among the "positive forces to dominate the picture" by the second half of the year.
Puzzling Trend
"He has put so much stock in non-energy," said Doug Porter, chief economist at Bank of Montreal in Toronto, who last week changed his forecast to a rate cut. "Why they are going in reverse is a bit more disturbing and puzzling."
Porter is among the 16 of 29 economists surveyed by Bloomberg saying the benchmark rate will be reduced by a quarter point to 0.5 percent, close to a record low of 0.25 percent set in 2009 and 2010 after the global financial crisis.
The key reason economists have shifted their forecasts is the failed factory rebound, with Toronto-Dominion Bank, Bank of America Merrill Lynch, BNP Paribas SA and Citigroup Inc. saying Canada probably fell into recession in the first half of 2015.
"The first-half growth profile will have to be massively downgraded," said Nick Exarhos, an economist at CIBC World Markets in Toronto. "We aren't yet seeing a big pickup in investment, in employment, in the factory sector."
Growth Stalled
Output probably stalled in the second quarter, according to a Bloomberg economist survey for July. The prior survey called for growth at a 1.1 percent annualized pace. For all of 2015, companies and governments may cut capital investment by 4.9 percent, including 19 percent in mining and energy and 1.5 percent in Ontario, a July 6 Statistics Canada survey showed.
One complication with another rate cut is the risk that it will do little to revive energy and factory production and instead drive up home prices and consumer debt burdens that have surged to records in the past several years. Another consideration is the central bank's preferred guide to future price trends is above its 2 percent target, with the overall inflation rate at 0.9 percent on the drop in energy costs.
Poloz likened these choices to life-saving surgery, at a June 28 panel talk at the Basel-based Bank for International Settlements. He said he had to cut rates in January to keep the economy on track, and worry about the housing market later.
"If the doctor says you need surgery to avoid death, the side effects usually don't deter you, you just go ahead and manage them somehow," Poloz said. "Other issues must be subordinate and I think of them as side effects."
Sales Decline
The CEO of Montreal-based Velan Inc. said that even with Canadian sales at his valve-making company down 50 percent this year, he's not convinced a rate cut is needed.
"I think interest rates are very low already," Tom Velan said by phone. "I don't know if going lower helps a lot, but if it weakens the dollar then it's good for us."
Jebco's Murray said he's struggling to find new orders to make up for 20,000 hours of work lost because of the Shell cancellation. Spokesmen for Shell in Houston and Calgary didn't return calls seeking comment on the Jebco order.
Jebco has reduced staff to about 120 people from 150 during healthier times, Murray said. His main strategy to cope with Canada's slump is seeking more orders from existing customers and investing in automation to make sure his plant isn't bought out and broken up, he said.
"It's a negative effect and we gotta work a whole lot harder to replenish the food chain," he said.
Before it's here, it's on the Bloomberg Terminal.
LEARN MORE