Nomura Account Openings Said to Jump in July on Toyota Sale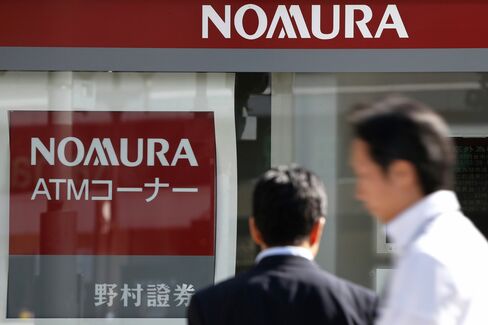 Individual investors opened accounts at Nomura Holdings Inc. at more than twice the pace of last year in July as people flocked to buy shares the brokerage sold for Toyota Motor Corp., people with knowledge of the matter said.
More than 25,000 people started accounts in the first nine business days of the month, making the daily average about 2,800, the people said, asking not to be named because the information is private. Nomura received about 1,300 new accounts a day last year.
Chief Executive Officer Koji Nagai is seeking to increase client assets under management to 150 trillion yen ($1.2 trillion) by March 2020 as more Japanese are investing their savings. Almost half of Nomura's pretax profit came from its retail securities arm last fiscal year, driving a third year of earnings growth at Japan's biggest brokerage.
Kenji Yamashita, a Tokyo-based spokesman for Nomura, declined to comment on the number of new accounts, saying it discloses such information when it reports quarterly earnings.
Nomura is exclusively selling 500 billion yen of a new type of stock issued by Toyota. Preorders were three to five times greater than the number of securities for sale, people with knowledge of the matter said earlier this month.
The brokerage can tap its retail customers for other large share sales that it's managing. Nomura is coordinating initial public offerings by Japan Post Holdings Co. and its banking and insurance units. Sony Corp. chose it as a lead underwriter to raise about 300 billion yen through a public offering.
Shares Rise
Shares of Tokyo-based Nomura rose 5 percent at 1:42 p.m. local time, the biggest intraday gain in almost three months, as Japanese equities jumped on optimism over Greece's bailout. Nomura has climbed 30 percent this year to the highest since May 2013.
Investors in Toyota's securities will have to hold the shares for five years, picking up dividends along the way, before gaining the option to sell them back to Toyota for the purchase price if the value drops. That's attractive for aging Japanese citizens who want limited risk as well as returns that outstrip those on the $7.2 trillion of cash and bank deposits they've piled up.
As well as drawing clients to Nomura, Toyota's offering is generating lucrative fees for the firm. Toyota will pay Nomura 22.5 billion yen to underwrite the sale, according to Bloomberg calculations based on a July 2 regulatory filing. That's about 4.5 percent, higher than the 4 percent average for the 10 biggest public offerings in Japan in the five years to December 2014, according to data compiled by Bloomberg.
Nomura had 114.9 trillion yen of retail client assets as of May 31.
Before it's here, it's on the Bloomberg Terminal.
LEARN MORE