Miles Joins BOE Chorus Saying U.K. Rate Increase Is Nearing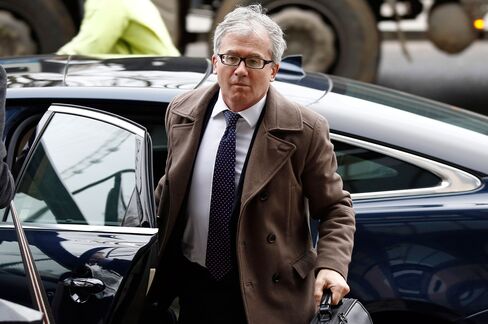 Bank of England official David Miles said interest-rate increases must start soon to avoid aggressive tightening later, joining a growing cohort of his colleagues starting to shift their views as the economy improves.
"The time to start normalization is soon; that is not something to shrink from," Miles said in a speech in London on Tuesday. While noting he's been called a "dove" for his inclination toward looser policy in the past, he said U.K. economic circumstances have changed "very largely for the better" in the past year.
Miles's comments came hours after BOE Governor Mark Carney said the time to begin raising the benchmark rate -- at a record-low 0.5 percent for more than six years -- is moving closer. With wage growth accelerating, that's fueling speculation the nine-member Monetary Policy Committee Committee will soon split on votes for the first time this year.
Deciding when to end emergency settings is the "big policy question," said Miles, whose term on the MPC ends next month. He refuted the idea that the BOE has to wait until the Federal Reserve increases rates to do so itself. He said it's a "daft idea that we cannot raise rates in the U.K. before the U.S. and also cannot be long behind them."
Two MPC members, Martin Weale and Ian McCafferty, have cited labor-market developments as a reason rate increases will be needed soon. Economists at Barclays Plc forecast the committee will split 8-1 in August, and possibly even 7-2.
Neutral Rate
In his speech Tuesday, Miles said there are no signs that the recent bout of low inflation is creating "significant risks of self-perpetuating deflation" and that the BOE was right not to respond to the temporary dip.
He also said any BOE rate increases should be gradual. Based on "crude estimates," Miles expects the key rate to rise to a new "neutral" of 2.5 percent to 3 percent by the start of 2018, higher than the assumptions the BOE used in its May forecasts. Miles's assessment compares with a pre-crisis neutral level of about 5 percent.
But a gradual pace means not unnecessarily delaying increases, according to Miles, a former economist at Morgan Stanley.
"A first move up in bank rate soon is likely to be right," he said. "I do not attach great weight to the idea that starting this process will create great risks of dropping back into very weak growth, falling into negative inflation and engendering a splurge in risk-avoiding behavior. I attach more weight to the risks of waiting too long and then not being able to take a gradual path."
Read this next:
Before it's here, it's on the Bloomberg Terminal.
LEARN MORE