It's Gotten Pretty Darn Easy to Get a Car Loan
No credit crunch here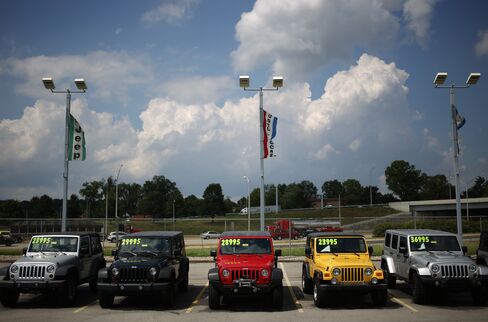 Remember the credit crunch that emerged after the 2008 financial crisis?
Well, it's a distant memory for car buyers.
Survey data released on Tuesday by the Federal Reserve Bank of New York show the rejection rate for auto loans over the previous 12 months fell to 3.3 percent in June, down from 10.3 percent in October 2013. That's the lowest since the bank began collecting data, some two years ago.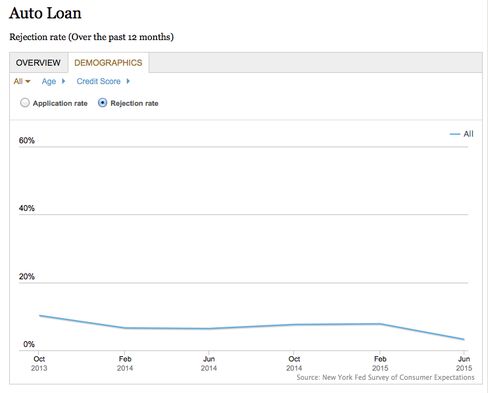 One reason for the looser credit has been the renewed appetite for securities backed by automobile debt, including to the riskiest borrowers, with subprime loans feeding about $13.2 billion of bond sales on Wall Street this year, according to data compiled by Bloomberg.
Issuance of all car-loan bonds totaled $61 billion in the first half of 2015, up 4 percent from a year earlier, according to Bank of America Merrill Lynch, which on Friday raised its full-year forecast for the sales by $25 billion, to $125 billion, based on the current pace and strong car sales.
To be sure, the bond market isn't the only driver of loose credit for buying cars. Separate Fed data show that motor vehicle loans outstanding totaled $955 billion as of the end of 2014, when the Securities Industry and Financial Markets Association saw only $179 billion of asset-backed securities tied to autos.
But whatever is fueling the growth, it looks like the loans are easier to get.
For more, read this QuickTake: Subprime Loans
Before it's here, it's on the Bloomberg Terminal.
LEARN MORE