Iran's Return From Exile Poses a Challenge for U.S., Allies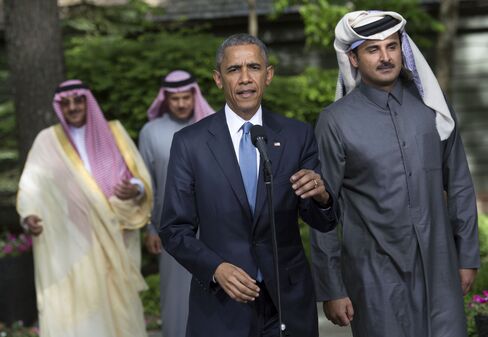 Iran is back. Its agreement with world powers to curb its nuclear program will ease its isolation as an international pariah and let the oil-rich nation resume participation in global commerce.
That prospect presents new challenges to U.S. President Barack Obama's administration, which pursued the nuclear accord while vowing not to ease pressure on the Islamic Republic as a supporter and bankroller of international terrorism.
The chance that the nuclear deal will become a historical inflection point in Iran's relations with the U.S. and other nations depends first on whether Iran honors the nuclear agreement and then what choices it makes once it's able to return to global oil markets and the international financial system after years of isolation, according to U.S. Iran-watchers.
While relief will be phased in over months to come provided that Iran meets its obligations under the accord, it stands to gain access to as much as $150 billion in frozen assets and to be freed from sanctions that reduced its crude exports by more than half. Banks including Goldman Sachs Group Inc. and Barclays Plc estimated before the deal that it would take six to 12 months for the holder of the world's fourth-largest crude reserves to revive production by about 500,000 barrels a day after sanctions are lifted.
Obama and others have expressed hope that Iran's reintegration into the global economy will strengthen its middle class and young people and ultimately temper their government's support for terrorism and subversion.
Helping Rouhani
"I don't think the deal itself will lead to a fundamental transformation of Iran itself, but I think it could be a first step," said Alireza Nader, a senior international analyst at the Rand Corp.
The deal is likely to provide a major political boost to Iranian President Hassan Rouhani, a relative moderate, and will help set in motion economic changes that could lead to eventual political reforms, Nader said.
Others say the billions of dollars flowing in over time will only underwrite the ambitions of Iranian's hard-liners to be the dominant power in the Persian Gulf and the wider Middle East.
"We must all bear in mind that Iran is not a status quo power," James Jeffrey, a former U.S. ambassador to Iraq, told the Senate Foreign Relations Committee last month. He said Iran is determined to assert its influence in the region and won't play by the rules.
'Flush With Cash'
Republican Senator Bob Corker said in a statement Tuesday that "Iran continues to be the lead sponsor of terrorism in the world."
"Relieving sanctions would make the Tehran regime flush with cash and could create a more dangerous threat to the United States and its allies," said Corker, chairman of the Foreign Relations panel, who will be a leader in congressional review of the accord.
The nuclear talks have rattled America's allies in Israel and the Persian Gulf, in part because there's no longer a Sunni Arab counterweight to a reinvigorated Shiite Persian Iran. Egypt is consumed by internal problems; Saudi Arabia has been unable to quell an uprising in neighboring Yemen; and Iraq is struggling to combat Islamic State with support from Iran's Islamic Revolutionary Guard Corps.
Doubters such as Israel and Saudi Arabia view Iran as a hegemonic power and have been adamant in opposing a deal that would lift sanctions. In the U.S., some lawmakers have expressed skepticism or preemptive opposition to the deal, which must be reviewed by Congress before Obama can take action to ease U.S. sanctions against Iran.
'Axis of Evil'
The nuclear accord presents a rare moment of U.S.-Iranian convergence after more than three decades of hostility since the 1979 Islamic Revolution that was followed by the holding of American hostages in the U.S. embassy in Tehran. President George W. Bush put Iran on his "Axis of Evil" in 2001, as an instigator of regional instability and a supporter of terrorism.
In Iran, hard-line elements in the leadership show little sign of softening their hostility, as they continue to promote the revolution-era chant of "Death to America."
The accord between Iran and six world powers -- China, France, Germany, Russia, the U.K. and the U.S. -- requires Iran to curtail its nuclear activities in return for the lifting of international sanctions. The accord also will permit Iran to increase its oil exports and open the way for foreign companies to invest in Iran.
Broader Engagement
The nuclear negotiations potentially set the stage for broader diplomatic engagement on the conflicts roiling the region, such as the fight against Islamic State in Iraq and the civil wars in Syria and Yemen, said Gary Sick, who was the principal National Security Council expert on Iran when American embassy personnel were taken hostage during the 1979 revolution.
The U.S. and Shiite Iran share a common foe in the radical Sunni Islamic State, but the U.S. blames Iran for sustaining the civil war in Syria by supporting President Bashar al-Assad, its key ally in funneling arms to Hezbollah in Lebanon, which the U.S., European Union and Israel consider a terrorist organization.
Continuing to Talk
The U.S. has been conducting nuclear negotiations with Iran for almost two years, "and there's no reason in the world to believe that after an agreement that ability to talk to each other is going to stop," said Sick, who's now an adjunct professor of international and public affairs at Columbia University in New York.
Obama is unwinding a long-standing policy of trying to isolate and contain Iran, which represents a "major shift" by the U.S., Sick said in an interview.
"It represents what I would regard as just realism -- that Iran is too big, it's too important, it has too much oil, it has too much gas, it has too many people, too much culture to simply be sidelined forever," he said in an interview. "Basically we did that for 20 years or so. It wasn't working; Iran was actually becoming more important."
Camp David
Facing the alarm over the nuclear negotiations among the Gulf Arab nations that see Iran as a sectarian as well as political challenge, Obama met with Gulf leaders at Camp David in May to reassure them and promise accelerated delivery of new weapons for defense.
"But they fear far less an outright Iranian invasion than Iranian infiltration of the weak areas in the Arab world, promoting instability and stresses on the Sunni nation states of the region in a religious, political, and psychological sense," said Jeffrey, the former ambassador who's a distinguished fellow at the Washington Institute for Near East Policy.
Pronouncements from Iran's Supreme Leader Ayatollah Ali Khamenei, as well as by hard-liners, have raised concerns about Iran's post-deal intentions, particularly how Iran will use the financial windfall from the lifting of sanctions. Brigadier General Ahmad Reza Pourdastan, the Iranian ground forces commander, declared this month that the deal doesn't mean any rapprochement with the U.S. "enemy," according to Iran's Fars news agency.
Conventional Arms
Any Iranian moves toward producing nuclear weapons has been seen as a strategic game-changer, which would probably draw preemptive U.S. or Israeli strikes on key nuclear facilities.
One consequence of the deal limiting Iran's nuclear capabilities, though, may be a conventional arms race in a region already in turmoil, said William Hartung, an analyst at the Center for International Policy in Washington who follows arms sales
"The public position of the Gulf states has been that they don't trust that a deal with Iran will adequately slow and/or prevent their pursuit of a nuclear bomb," he said. "But in fact they are at least as concerned with the impact of a lifting of sanctions on Iran's ability to upgrade its conventional forces and wield greater economic clout in the region."
The accord reached in Vienna calls for lifting a United Nations embargo on conventional arms sales to and from Iran after five years, and a bar on ballistic missile sales would end after eight years.
'Sanctions-Relief Jackpot'
Debate in Congress also may focus on whether Iran will use the billions of dollars in sanctions relief to expand a series of proxy wars against its Sunni neighbors for regional influence, as well as boosting support for groups such as Hezbollah.
Representative Ed Royce, chairman of the House Foreign Affairs Committee, said the Obama administration is misreading the Iranian leadership. Administration officials have "talked themselves into the delusion that the regime in Tehran will use a sanctions-relief jackpot to help its people," the California Republican said in a statement July 4.
In addition to the return of frozen assets abroad, Iran's oil revenue may increase by as much as $24 billion annually, Martin Indyk, executive vice president of the Brookings Institution, told the Senate Foreign Relations Committee last month.
"It is reasonable to assume that a good part of that windfall will be used to rehabilitate Iran's struggling economy and fulfill the expectations of Iran's people for a better life," said Indyk, who was the architect of the "dual containment" strategy against Iran and Iraq when he was a National Security Council staff member in President Bill Clinton's administration. "But it is an equally safe bet that the Iranian Revolutionary Guard Corps, the Ministry of Intelligence and the Iranian Armed Forces will be beneficiaries, too."
Russian Missiles
Iran already has discussed with Russia moving ahead with the purchase of its sophisticated S-300 surface-to-air missile system. It signed an $800 million deal for the S-300s in 2007, but Russia held off delivery after the U.S. and Israel objected that Tehran could use them to protect its nuclear facilities.
Still, most of the financial benefits of the nuclear deal will be "internally consumed on a wide array of projects, whether it's infrastructure development, investments for the energy sector, health care, education, subsidies," said Nader. "A significant amount will go to the elite," including powerful religious foundations and groups such as the Revolutionary Guard that hold vast business interests.
Paul Pillar, a former top U.S. intelligence official for the Mideast, said he doubts the lifting of sanctions will make much difference in how much Iran funds its proxies, such as Hezbollah or commits to conflicts in Syria and Yemen. These decisions are politically driven, and there's no evidence that the sanctions squeeze has curtailed Iran's actions, he said.
'Not Bookkeepers'
"The Iranians are not bookkeepers who add up how many rials they have in their bank account and that determines what they'll do elsewhere in the region," said Pillar, a 28-year veteran of the intelligence community. "No, it's other interests. They have the relationship with the Syrian regime, for example, for reasons that have nothing to do with how many rials they have in their bank account."
While there may be some gestures to mollify hard-liners, the principal political effect in Tehran of concluding and implementing this agreement "will definitely be a boost to Rouhani and the more pragmatic and moderate elements in the regime" who have promised to repair the economy, said Pillar, who's on the faculty of the security studies program at Georgetown University. "Rouhani has invested a great deal politically in the success of this negotiation and in the prospect of some economic improvement."
Before it's here, it's on the Bloomberg Terminal.
LEARN MORE