Spending data released Tuesday portrayed a consumer that doesn't seem all that eager to shop — retail sales unexpectedly dropped 0.3 percent in June from the month before.
Over the past year, however, consumers have seen a lot working in their favor. Job growth is steady, inflation is tame and debt levels, when taken in the context of incomes, are at the lowest in more than a decade.
It also hasn't hurt that gas is about 23 percent cheaper than it was this time a year ago. That's helped households shift the money that they would have spent on fuel to other categories, with fun and food becoming big winners.
As a share of total spending, according to the retail sales data, sporting and book stores have seen the biggest increase from a year ago, with spending there representing 1.67 percent of the pie last month versus 0.65 percent June 2014.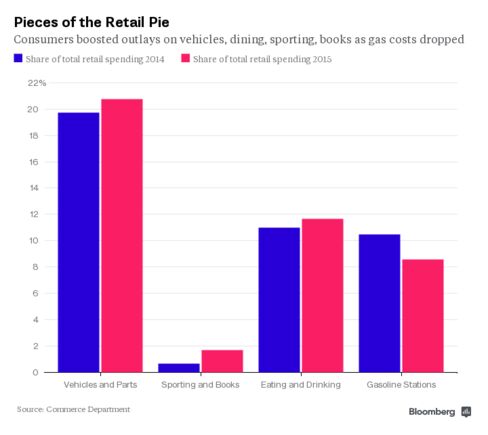 That's followed by spending at vehicles and parts retailers, which climbed 1 percentage point over the year to 20.8 percent of total retail sales. Outlays at eating and drinking establishments climbed 0.68 percentage point to 11.7 percent.
Still, the boost to consumption from gasoline savings has been weaker than what economists were anticipating. And with consumer spending accounting for almost 70 percent of the economy, households will need to pick up the pace to meet expectations for economic growth this year.
Consumption is now tracking at a 2.6 percent annual rate of increase for the second quarter, down from the 2.9 percent pace before Tuesday's report, Michael Feroli, chief U.S. economist at JPMorgan Securities LLC in New York, wrote in a note to clients. With all the tailwinds working in households' favor, "caution still appears to be holding back a more rapid pace of spending growth."
"The glass half-full take on consumers is that 2.6% is still somewhat better than the 2.3% consumption growth we've averaged since the beginning of the current expansion," Feroli wrote. "The glass half-empty view is that there is now even less evidence of a sharp snapback in spending after an unambiguously disappointing Q1."
Gross domestic product declined at a 0.2 percent annualized pace in the first quarter. Economists surveyed by Bloomberg before the retail sales report expected a 2.7 percent growth rate in the second quarter, though that figure probably will come down.
With Federal Reserve policy makers stressing data dependence as they try to time the first interest rate increase since 2006, the odds of a September rate hike also probably will decline on the retail data, Michelle Girard, chief U.S. economist at RBS Securities Inc., said in a note to clients. Still, "we are not inclined to alter our call at this time, as we believe the outlook for the U.S. consumer remains bright," she wrote.

Before it's here, it's on the Bloomberg Terminal.
LEARN MORE