Hayes Rebuked by Judge for Answering Questions 'As I Wish'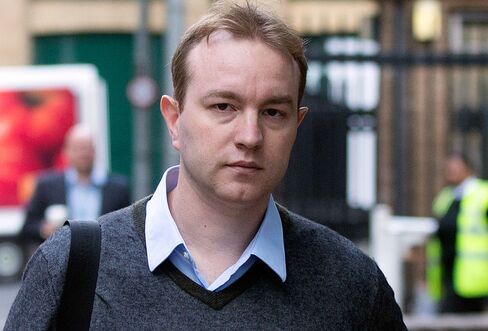 Tom Hayes was told by a judge to stop making speeches and answer the questions put to him after a series of terse exchanges with a U.K. prosecutor.
Judge Jeremy Cooke intervened after Hayes told prosecutor Mukul Chawla that he would reply to questions "as I wish."
"Can you please try and answer the questions and not make speeches," Cooke told Hayes during a second day of cross-examination by Chawla in London.
Hayes, a former trader at UBS Group AG and Citigroup Inc., is the first individual to stand trial for rigging the London interbank offered rate. He faces eight counts of fraud, each carrying up to 10 years in prison.
Prosecutors say Hayes bullied and cajoled fellow traders and brokers to move benchmark rates to make his positions more profitable. Hayes's lawyers say the practice was widespread.
Hayes has frequently criticized Chawla's questions and asked for the prosecutor to rephrase them. The judge's comments came at the end of two days of cross examination in which Hayes responded to questions with long answers about flaws in the U.S. justice system and the lack of data used by investigators.
Jurors were told earlier in the trial that Hayes suffered from a mild form of Asperger's syndrome and that he needed frequent breaks during questioning.
Read this next:
Before it's here, it's on the Bloomberg Terminal.
LEARN MORE