Romanian Premier Steps Down as Ruling Party Chairman Amid Probe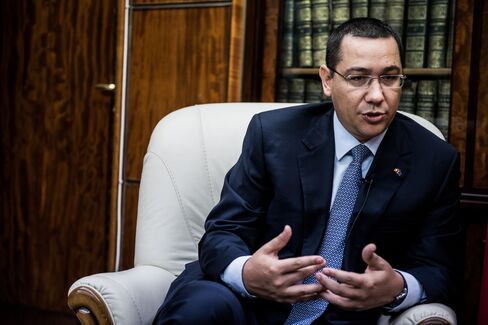 Romanian Prime Minister Victor Ponta stepped down as leader of the ruling Social Democratic Party until he's proven innocent in a corruption probe.
Ponta is giving up the post to avoid damaging the party amid the investigation against him for forgery, money laundering and complicity to tax fraud, he said on Facebook on Sunday. He won't hold any positions in the party for now but will take part in party leadership meetings, spokeswoman Gabriela Firea said in an e-mail statement.
The corruption scandal has rocked the European Union member state, which has a population of 20 million, since June. Ponta, the first Romanian acting head of government to be targeted by a criminal probe, said he will stay on as premier after he resumed his post on July 9 following a three-week absence for knee surgery in Turkey.
"There's a new, special situation to which I have to react to," he said in the letter posted on Facebook. "The Social Democratic Party president is being investigated by anti-corruption prosecutors."
Before it's here, it's on the Bloomberg Terminal.
LEARN MORE