Mexico Bond Hopes Dashed With IMF More Bearish Than Wall Street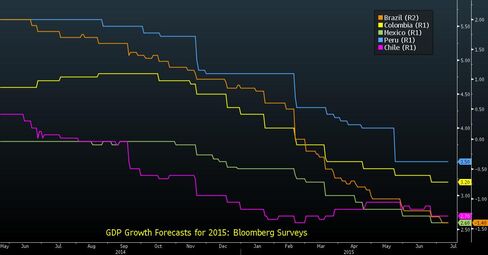 Investors in Mexican bonds banking on faster growth later this year to revive their fortunes will be disappointed.
The International Monetary Fund signaled Thursday that no resurgence is in the offing, cutting its forecast for Latin America's second-biggest economy for the third time this year. The lender said a faltering expansion in the U.S. means Mexico's gross domestic product will climb just 2.4 percent in 2015, down from a previous projection of 3.1 percent and below the 2.6 percent median forecast of analysts.
The deteriorating outlook threatens to make things worse for bondholders already smarting from losses as Mexico falls short of lofty growth expectations fueled by historic changes in energy laws. The nation's local-currency notes have slumped 4.5 percent in dollar terms this year, versus a 0.2 percent average gain for emerging markets.
"Over the past two-and-a-half years, Mexico has disappointed," Alberto Ramos, chief Latin America economist at Goldman Sachs Group Inc., said by telephone from New York. "It could be that we were all too optimistic and expected more than Mexico could deliver. We were too excited about the reforms."
Mexico passed legislation in 2013 to open its oil fields to private drillers for the first time since 1938, a move that was widely expected to unleash a growth boom as foreign investment poured into the nation's energy industry.
'Highly Affected'
The 49 percent collapse in crude prices since last July has helped undermine that push, forcing the government to cut spending earlier this year.
Weaker-than-expected growth in the U.S. has compounded the Latin American country's woes. The world's biggest economy is the destination for about 80 percent of Mexico's exports.
"Mexico is highly affected by what happens north of the border," Gian Maria Milesi-Ferretti, deputy director of the IMF's research department, told reporters in Washington on Thursday. "It's a very open economy."
The peso was little changed Monday at 15.7176 per dollar as of 12:41 p.m. in New York.
Luis de la Cerda, chief investment officer at Grupo de Inversiones Suramericana, Mexico's biggest pension-fund manager, said this month that Mexican peso bonds remain one of his top trades as the country's reforms will bolster growth.
Economic Outlook
Itau Unibanco and Thorne & Associates Sac forecast Mexico's economy will expand just 2.4 percent in 2015, data compiled by Bloomberg show. JPMorgan Chase & Co. on Friday cut its forecast to 2.2 percent, the lowest among 29 estimates in Bloomberg's survey, citing the contraction in industrial output.
"If you look at what expectations were at the beginning of this year and the end of last year, everybody expected U.S. growth to be higher," Italo Lombardi, an economist at Standard Chartered Plc, said from New York. "U.S. growth has been revised lower for the fifth consecutive year and that's a major driver for Mexico."
Before it's here, it's on the Bloomberg Terminal.
LEARN MORE