Five Things Everyone Will Be Talking About Today
What a weekend - get caught up on what matters here.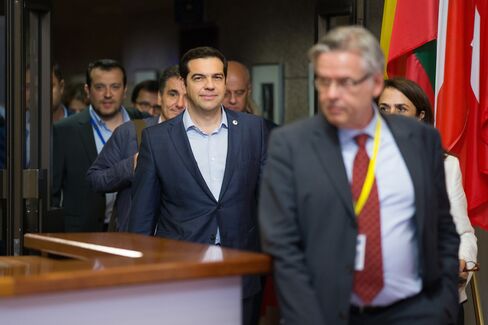 Deal reached on Greece, European stocks rally and Iran talks almost there. Here are some of the things people are talking about in markets following a very busy weekend.
Deal reached on Greece
Following marathon talks over the weekend that only wound-up at 9:00 a.m. CET this morning, a deal has been struck on Greece. The agreement requires Greece to pass legislation in its parliament in the next three days to address the first set of measures listed in the accord. This rapid passage of legislation is required as a trust-building exercise. Make no mistake - this agreement is the start of a long process, not the end of one.
European stocks rally
European stocks are having a great start to their week on the back of the Greek negotiation success. Portuguese and French equities led the way in early trading. The Stoxx Europe 600 Index rose 1.7 percent to 395.38 by 10:30 a.m. in London.
China exports rise
Overnight data from China showed exports rose for the first time in four months, giving more evidence that growth in the Chinese economy may be stabilizing. Latest Chinese GDP data is due on Wednesday of this week, so there is not a long to wait to see how much the economy has stabilized.
Iran deal close
It's not just the Greeks that have been embroiled in talks all weekend. In Vienna talks to reach a nuclear deal with Iran continued over the weekend. While a final deal has yet to be reached, the remaining obstacles to a deal are being resolved one by one. There could be an announcement of an agreement as soon as today.
Oil lower
Oil fell in early morning trading, and although it has recovered much of the losses, it is still down on the day. Optimism over an Iran deal may be one factor. Also this morning, Saudi Arabia confirmed it's pumping a record amount of oil. The country said it pumped 10.564 million barrels of oil per day in June, which tops its previous record set in 1980.
What we've been reading
Here's what caught our eye over the weekend
Want to receive this post, and more, into your inbox every morning? Sign up here.
Before it's here, it's on the Bloomberg Terminal.
LEARN MORE