Black Hills Burns for Gas as Power Utilities Crave Growth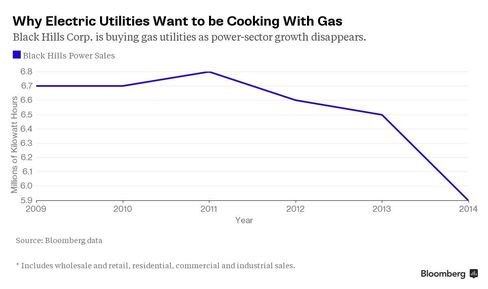 Black Hills Corp.'s deal to buy SourceGas Holdings LLC for $1.89 billion shows how sales-challenged electric utility owners are on the hunt for natural gas delivery companies that promise better growth.
Power sellers and distributors such as Black Hills, already grappling with rising costs from new environmental rules, are facing stagnant electricity demand because of energy conservation measures. Over the past five years, the amount of power sold by Black Hills has declined, with wholesale volumes falling by more than half, data compiled by Bloomberg show.
Meanwhile, a glut of natural gas flowing out of shale formations in North Dakota, Pennsylvania, Texas and other states has boosted use of the cheap heating and power-plant fuel.
Gas "distribution companies have some attributes that electric utilities know well, but are no longer a given for them -- customer and sales growth," said Robert Zabors, chief executive officer of Enovation Partners, a Chicago-based energy consulting company.
In buying SourceGas, Rapid City, South Dakota-based Black Hills will expand its customer base by 55 percent and take control of gas utilities in Arkansas, Nebraska, Colorado and Wyoming, Chief Executive Officer David Emery said Monday during a conference call with investors. Black Hills sees the transaction adding to earnings-per-share as customer growth at SourceGas is projected to rise 2 percent a year, Emery said. The deal is expected to close in the first half of 2016.
Load Growth
"Local gas distribution companies have a steady stream of investment opportunities due to mandated grid improvements and home heating conversions," said Stacy Nemeroff, an analyst at Bloomberg Intelligence. "Also, gas utilities do not face the same threats to load growth from distributed generation as their electric counterparts."
Black Hills fell 0.9 percent to $45.30 at 10:41 a.m. in New York. Fitch Ratings placed Black Hills on credit watch negative due to the "material increase" in debt needed to complete the SourceGas deal. Debt made up about 65 percent to 75 percent of the total transaction value, Fitch said.
Black Hills follows other utilities that have expanded into natural gas through acquisitions. In February, Iberdrola SA, owner of electric utilities in New York and Maine, proposed to take over UIL Holdings Corp., which owns gas distribution in Connecticut and Massachusetts. Regulators in Connecticut were weighing a draft recommendation to reject the deal, prompting the companies on July 7 to say they will resubmit their application.
Last month, WEC Energy Group Inc. completed its $5.6 billion purchase of Integrys Energy Group Inc., expanding its gas service into Illinois and Minnesota and becoming the nation's eighth largest distributor.
"Distribution and pipeline assets are where it's at right now," said Skip Aylesworth, who manages about $2 billion in the Hennessy Gas Utility Fund, including shares of Black Hills. Aylesworth and Hennessy are based in Boston.
Before it's here, it's on the Bloomberg Terminal.
LEARN MORE