Russia's Debut Linkers Sale Has a Problem: Inflation Is Slowing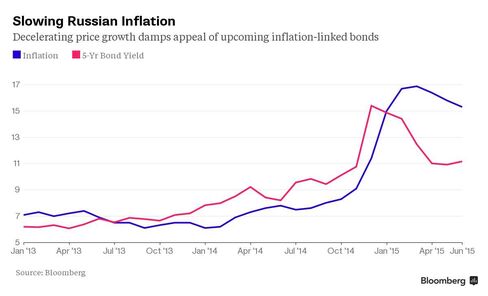 A week after Finance Ministry officials met investors in a hotel off Red Square to pitch Russia's first inflation-linked bonds, the nation's biggest bank says it has no need for the securities. Not for now, at least.
Three months of slowing inflation and projections for further declines are limiting the appeal of the proposed bonds paying interest that rises or falls with the pace of price growth. The Finance Ministry said July 3 it will sell notes maturing in 2023 as soon as this month.
"There's no need to go for something exotic," Evgeny Korovin, a fixed-income money manager at the asset-management arm of OAO Sberbank in Moscow, said in an interview last week. Inflation, which peaked at 16.9 percent in March, will slow toward the 4 percent or 5 percent norm longer-term, he said.
For Russia, any fall-off in demand for linkers is a good problem to have. It was the plunge in the ruble that sent inflation soaring last year as sanctions stemming from the war in Ukraine and lower oil prices dragged the economy toward recession. Investor optimism in the recovery has made the ruble this year's best-performing emerging-market currency, easing the risk of resurgent inflation.
At the same time, weak demand won't help the Finance Ministry, which is broadening the selection of bonds it offers as it aims to meet a 1 trillion-ruble ($18 billion) 2015 debt-sale target. The borrowing plan is more important this year because the government needs to finance its widest budget shortfall since 2010.
Four Seasons
Russia's linkers will be modeled on U.S. Treasury Inflation-Protected Securities, Konstantin Vyshkovsky, the head of the Finance Ministry's debt department, explained at the July 3 presentation in Moscow's Four Seasons Hotel.
The August 2023 bonds will have a fixed interest rate of about 2 percent and the principal will adjust every six months based on changes in consumer prices in the previous three months. The government plans to raise at least 150 billion rubles selling the notes.
Russia's plain-vanilla August 2023 ruble bond yield declined for the fourth day to 11 percent at 4:09 p.m. in Moscow on Monday. For linkers to produce an appealing return once the 2 percent interest rate is added, inflation would need to run faster than 9 percent, according to Yury Tulinov, the head of research at PAO Rosbank in Moscow. Economists surveyed by Bloomberg forecast the rate will fall to 7.2 percent next year and 6.7 percent in 2017.
Inflation Risks
Still, investors would benefit from buying linkers to make their bond portfolios more immune to "upside risks" to inflation stemming from the Russian economy's sensitivity to oil prices, Credit Suisse Group AG analysts said in a July 7 research note. The ruble has fallen 3.5 percent against the dollar in the past month as Brent crude tumbled 11 percent.
"It's an interesting instrument, we'll be buying, but not necessarily right now," Dmitry Postolenko, a money manager at Kapital Asset Management LLC in Moscow, said in e-mailed comments.
While the central bank warned at its last interest-rate meeting that inflation may pick up, consumer-price increases are set to slow to 12.6 percent by the fourth quarter, according to forecasts compiled by Bloomberg. The rate fell to 15.3 percent in June from a 13-year high of 16.9 percent three months earlier.
"If you bet on the rate cuts and lower inflation, why would you need a floater," Dmitry Kosmodemiyanskiy, a money manager at Otkritie Asset Management in Moscow, said in e-mailed comments. He said that so far, he "doesn't like" the prospects for investing in the debt.
Before it's here, it's on the Bloomberg Terminal.
LEARN MORE