Prison Escape Called 'Unforgiveable' Haunts Mexico's Pena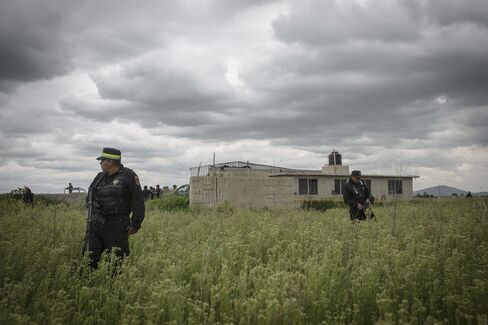 President Enrique Pena Nieto's administration just committed what he'd said would be an "unforgivable" mistake: allowing Mexico's most famous drug trafficker to escape from prison for the second time.
Joaquin Guzman, known by his nickname "El Chapo," vanished late Saturday, apparently breaking out through an almost mile-long tunnel equipped with lighting, ventilation and a motorcycle on rails, the government said. Eighteen prison employees were being questioned in Mexico City, National Security Commissioner Monte Alejandro Rubido said.
"This shows the serious and profound institutional weakness and corruption in Mexico," Jorge Chabat, a security analyst at the Center for Economic Research and Teaching in Mexico City, said in a telephone interview. "It's much worse that he was detained and escaped again. All the effort Pena Nieto has done to create an image of fighting organized crime is completely destroyed."
Drug violence has claimed more than 70,000 lives in Mexico since 2006, and analysts surveyed monthly by the central bank consistently rank poor security as the biggest obstacle to economic growth.
Guzman, called "the world's most powerful drug trafficker" by the U.S. Treasury Department, was captured in February 2014, 13 years after he sneaked out of another maximum-security prison in a laundry cart.
Pena Nieto vowed it would never happen again, with Mexico saying it would try the alleged head of the Sinaloa Cartel before considering his extradition to the U.S., where he's been indicted in at least five cities.
U.S. Anger
U.S. officials are furious about the escape, which illustrates why they wanted him extradited, said a senior law enforcement official who asked not to be named because he wasn't authorized to discuss the matter. U.S. officials had told Mexico they were worried because of the earlier breakout, the person said.
"It's a responsibility of the government of the republic to assure that the escape occurred some years ago will never happen again," Pena Nieto said last year in an interview with Univision journalist Leon Krauze. "It would be unforgivable."
Not agreeing to extradite Guzman was a "disastrous mistake" by a Mexican administration that has overestimated its capacity to fight crime, said Alejandro Hope, a former Mexican intelligence officer.
After Guzman's arrest last year, Mexico's attorney general at the time, Jesus Murillo Karam, said he wouldn't accept El Chapo's extradition to the U.S. until after he'd completed his sentence in Mexico. Murillo Karam stepped down earlier this year and currently serves as the housing and land development minister.
Mexico Manhunt
"I could accept extradition, but at the time that I choose. 'El Chapo' must stay here to complete his sentence, and then I will extradite him," Murillo Karam told The Associated Press in an interview in 2014. "So about 300 or 400 years later — it will be a while."
Security officials mobilized military personnel to hunt for Guzman. Guatemala boosted security at its border with Mexico in case Guzman tries to enter the country, the Central American nation said in a statement.
The U.S. "stands ready to work with our Mexican partners to provide any assistance" to capture Guzman, Attorney General Loretta Lynch said in e-mailed statement from the Department of Justice.
'Profoundly Troubled'
Pena Nieto arrived over the weekend in Paris, where he's starting a state visit. While Mexico is "profoundly troubled" by Guzman's escape, the government is confident security forces will recapture him, Pena Nieto said in televised comments Sunday.
The peso weakened 0.3 percent to 15.7540 against the dollar at 9:07 a.m. in Mexico City, making it the fifth best performer among 16 major currencies tracked by Bloomberg.
"Insecurity in Mexico has been a given for years," Gabriel Casillas, chief economist at Grupo Financiero Banorte SAB, said in an e-mailed response to questions. "It's not going to surprise investors."
Drug Tunnels
Guzman's drug-trafficking empire helped him amass a personal fortune of about $1 billion, according to Forbes magazine.
His Sinaloa cartel, named after his home state and known for beheading its enemies or hanging their bodies in public places, built tunnels under the U.S.-Mexico border to move marijuana. Guzman himself regularly used sewer tunnels to evade authorities before his arrest last year.
The tunnel from Mexico's Altiplano prison led to a construction site, Rubido said. It measured about 5 feet, 7 inches (1.7 meters) high and as much as 2 feet, 7 inches wide, Rubido said. The rail-borne motorcycle may have been used to move equipment and carry away dirt, he said.
A narrower passageway from a prison shower area led to a vertical shaft of more than 30 feet that connected with the tunnel and was equipped with a ladder, he said.
'Political Pressure'
Pena Nieto said he ordered an investigation of Guzman's escape and vowed to punish any officials responsible.
The former prisoner may have received help from officials with information on the prison's floor plan and security cameras, according to Hope, who now works as an editor at eldailypost.com, an English-language news website specializing in Mexico.
"The jewel of the crown of captured kingpins is out of jail," he said. "It will put a lot of political pressure on Pena Nieto. At best, it is just embarrassing. At worst, it could lead to some significant questions from those inside and outside of Mexico about what's being done in terms of his security strategy."
Before it's here, it's on the Bloomberg Terminal.
LEARN MORE