Satoru Iwata, Nintendo President Who Introduced Wii, Dies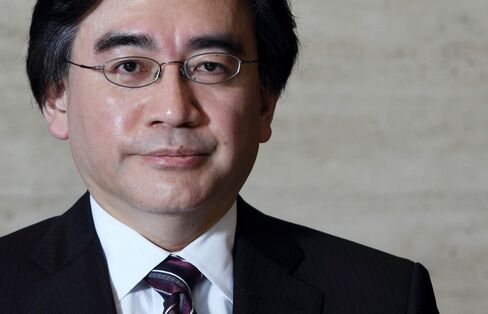 Nintendo Co. President Satoru Iwata, who led the Japanese gamemaker back to ascendancy in the early 2000s with the Wii console, has died. He was 55.
Iwata passed away July 11 from bile duct cancer, the Kyoto, Japan-based company said in a statement Monday. Genyo Takeda and Shigeru Miyamoto will lead management while a formal successor is decided, spokesman Yasuhiro Minagawa said by phone.
The first president from outside the Yamauchi family since it started selling cards in the late 19th century, Iwata led Nintendo since 2002 and helped oversee a tripling of revenue with hits including the Game Boy Advance SP and the Wii. The rise of smartphones ate into sales of its handheld game players and the Wii U failed to match its predecessor's success. Iwata was away from the public eye for two months last year because of surgery to remove a bile-duct growth.
"Iwata made a great contribution to the industry," said Hideki Yasuda, an analyst at Ace Research Institute in Tokyo. "It's a great loss for Nintendo."
In March, Iwata ended his hold-out against making Nintendo's iconic characters available on smartphones and tablet computers, agreeing to form a venture with DeNA Co. as it tried to recapture casual players.
Nintendo rose 1.5 percent to close at 19,805 yen in Tokyo, tracking a 1.9 percent jump on the benchmark Topix index.
Game Programmer
Born and raised in the northern Japanese city of Sapporo, Iwata began programming games in high school and studied computer science at the Tokyo Institute of Technology, one of Japan's top universities, according to the book "1000 CEOs," compiled by Andrew Davidson.
Iwata was a teenager when Nintendo entered the video-game business. He desperately wanted into the industry, against his parents' wishes, according to the book. In 1982, after working as a freelance game programmer, he joined HAL Laboratory, a Nintendo unit created in 1980 to make games for the parent company's consoles. He eventually became president of HAL, before moving to Nintendo as head of corporate planning in 2000.
In 2002, the year Iwata took the post of president, Nintendo had annual sales of 555 billion yen ($4.5 billion).
Iwata subsequently oversaw a winning streak that included the Game Boy Advance SP, the Nintendo DS handheld player, the Nintendo DS Lite, the Wii, the DSi, the DSi XL and the 3DS. The company also opened its first retail store in New York's Rockefeller Center, selling machines, games and merchandise featuring its Pokemon collection and Donkey Kong.
Smartphone Competition
In 2009, Nintendo posted 555 billion yen in operating profit as revenue more than tripled to 1.8 trillion yen on demand for the original Wii console and software. The Wii shipped more than 100 million units and became the world's best-selling console.
Iwata followed in November 2012 with the Wii U, which has struggled to recapture gamers who have shifted to other entertainment. In the period between the Wii and Wii U releases, Apple unveiled its iPhone and iPad; Samsung Electronics Co. its Galaxy line of smartphones and tablets; and Google Inc. its Android operating system used by most mobile-phone makers.
Sony, Microsoft
Nintendo has also faced new competition in consoles from Microsoft Corp.'s Xbox and Sony Corp.'s PlayStation, which have lured hardcore gamers with with advanced graphics and shooter-style software.
Those were body blows to Nintendo. Sales have fallen for six straight years, dropping to 550 billion yen in the 12 months ended March, or less than when Iwata took the role.
The company forecast operating profit will double this fiscal year helped by its move into mobile phone gaming. The smartphone service begins this year and Iwata has said Nintendo is preparing to release a new console, code-named NX.
"The trajectory given Nintendo by Iwata isn't likely to change," said Tomoaki Kawasaki, an analyst at Iwai Cosmo Securities Co. "The successor's challenge will be to make the smartphone business a reality and create meaningful synergies with the new NX console to strengthen the company's finances."
News of Iwata's death prompted an outpouring of condolences from Nintendo fans and industry executives across Twitter. Many linked to past interviews and recalled their favorite Nintendo moments, including Microsoft Xbox director Mike Ybarra, who posted an image of iconic gaming character Mario, hat in hand, eyes downcast.
https://twitter.com/XboxQwik/status/620390134207242240
"What a terribly sad day," Peter Moore, chief operating officer of Electronic Arts Inc, said on Twitter. "Iwata-San was such a gentleman. Huge loss for the industry."
https://twitter.com/petermooreEA/status/620387849179787264

Read this next: