Fosun's Guo Says Market Deficiency Partly Behind Stock Rout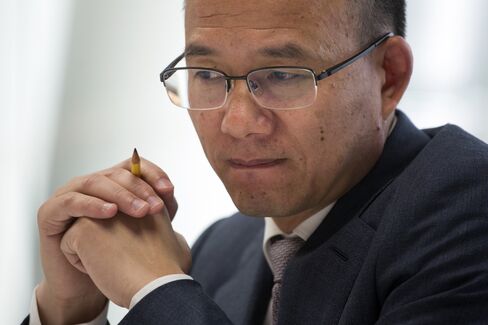 Billionaire Guo Guangchang said deficiencies in designing China's financial infrastructure were partly behind the slump that wiped out almost $4 trillion from the nation's stock markets.
The equity market is young and going through an "adolescent period," the founder and chairman of Fosun Group, China's largest closely held conglomerate, said in a speech at a Shanghai forum on Sunday. Without elaborating on the deficiencies, he said even mature markets have made mistakes.
Guo, 48, defended government intervention to stop the stock rout, saying the slump had become "irrational." The government cut interest rates, while initial public offerings were suspended among steps to stem the Shanghai Composite Index's 32 percent tumble from its June 12 peak through July 8.
The gauge rallied 11 percent in the next two days. Other support measures included halting trading in more than 1,300 companies' shares, a ban on stockholders and executives from selling stakes in listed companies for six months, an order for companies to buy equities and an investigation by the nation's public security bureau into short-selling.
China's stock market shows "how crucial value investing is," Guo was quoted as saying on the company's official WeChat public account on July 8. "Amid a sheer panic in the market, we should be brave and act in the opposite of the crowd."
Guo has previously indicated he likes to mimic Warren Buffett's approach at Berkshire Hathaway Inc. as a value investor, taking large long-term stakes.
ICBC Stock
There were many mainland and Hong Kong-listed shares of Chinese companies that are worth investing in, Guo said during a panel discussion at the forum on Sunday evening.
Fosun bought "many" shares of Industrial & Commercial Bank of China Ltd. when the A-share market was around the 5,000 level, Guo said. He didn't specify which index he was referring to, and it wasn't clear if Fosun had bought ICBC stock when China's equity market was rallying or after it peaked.
The Shanghai Composite Index rose above 5,000 on June 5 en route to a seven-year high on June 12, before falling back below 5,000 on June 16. A correction in the A-share market is "normal" after a large rally, Guo said.
"There is always an abandoned pearl in any market with bubbles," he said. "In a market full of panic sentiment, there hides even more such opportunities."
— With assistance by Jun Luo, and Emma Dong
Before it's here, it's on the Bloomberg Terminal.
LEARN MORE