Euro's Drop Muted as Currency Builds Resistance to Greek Turmoil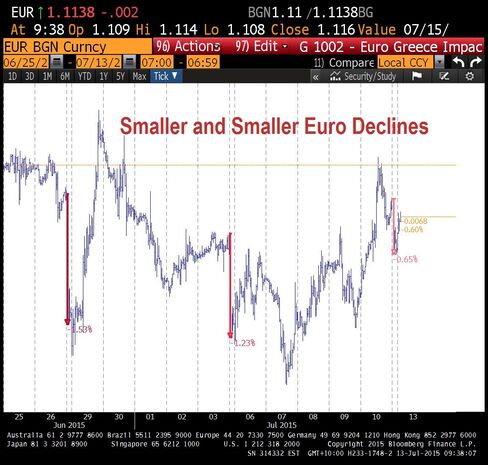 The euro seems to be building up some resistance to Greek turmoil, even as it opened weaker for a third straight Monday amid the latest debt impasse.
Today's drop at the start of Asian trading was smaller than its predecessors as the decision to give Greece an extended three-day deadline to meet aid conditions kept traders guessing. The single currency fell 0.7 percent in the first two hours of trading, compared with plunges of more than 1 percent when markets got started July 6 and June 29, when disagreements over Greece sparked risk aversion. The yen rose for a third-straight Monday amid haven demand.
"Moves in the euro versus the dollar show markets don't see a resurgence of the European debt crisis," said Kengo Suzuki, chief currency strategist at Mizuho Securities Co. in Tokyo. "Disappointment that there was no agreement over Greece was behind the yen's rise this morning."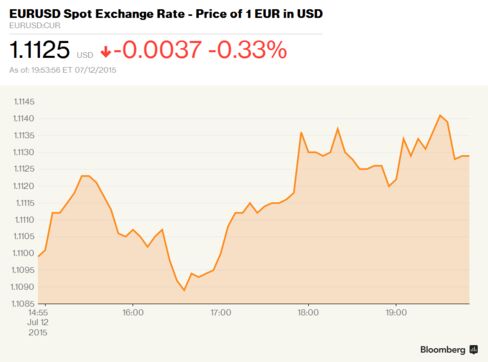 The euro declined 0.1 percent to $1.1146 as of 6:52 a.m. in London, after dipping as low as $1.1089. It weakened 0.2 percent to 136.68 yen. Japan's currency rose 0.1 percent to 122.63 per dollar after earlier climbing by 0.7 percent.
European finance ministers meeting in Brussels demanded Greece pass their main demands into law in exchange for the third bailout in five years. The European Union had previously set a Sunday deadline to reach a deal on an aid package of as much as 86 billion euros ($96 billion).
Compromises Possible
The Australian dollar and the New Zealand dollar unwound earlier losses as Asian shares climbed, even amid indications Greece isn't willing to accept all the demands put forward. The Aussie was little changed at 74.44 U.S. cents while the kiwi advanced 0.2 percent to 67.41 U.S. cents.
A proposal to put assets into a privatization fund is a very sensitive matter for Greece, said a Greek official who asked not to be identified because talks are private.
"The fund might be one of the things they compromise on," Chris Weston, chief market strategist at IG Ltd. in Melbourne, said by phone. "The bottom line is, these markets right now are probably some of the hardest markets to trade that I've seen for a long time."
Hedge funds and other large speculators left bets on euro declines virtually unchanged for a second week, according to the latest data available from the Commodity Futures Trading Commission. Net shorts stood at 99,266 contracts in the week ended July 7. The 89,357 net short contracts in the week ended June 16 were the fewest since July of last year.
The euro has still gained 5 percent in the past three months, the best performer after the pound of 10 developed-nation currencies tracked by Bloomberg Correlation-Weighted Indexes. The dollar fell 1.1 percent and the yen slid 3.3 percent.
Low Volatility
A measure of expected price swings in the euro-dollar pair over the next three months was at 11.19 percent, after reaching a two-week low of 11.11 percent Friday. It spiked to a three-year high of 13.10 percent on June 29, after Greece announced it would hold a referendum on creditors' demands.
"While the worst scenario of euro exit has been avoided, the ball is back in the Greek court," Toshiya Yamauchi, a senior analyst in Tokyo at Ueda Harlow Ltd., a margin-trading services provider, wrote in a note to clients. "Markets appear to be optimistic about the Greek parliament approving the legislation."

Read this next:
Before it's here, it's on the Bloomberg Terminal.
LEARN MORE