Djokovic Beats 'Greatest Challenge' Federer for Wimbledon Title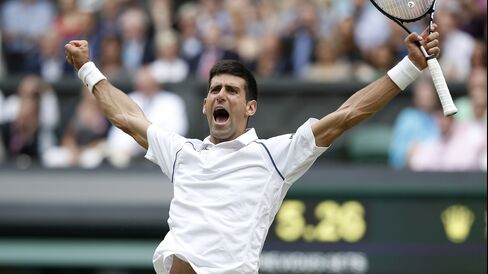 History repeated itself on Centre Court where Novak Djokovic defeated Roger Federer for his third Wimbledon title.
Just like last year, the top-seeded Serb overcame Federer - - and a Centre Court crowd cheering for the seven-time winner from Switzerland -- 7-6 (7-1), 6-7 (10-12), 6-4, 6-3 Sunday to tie his coach Boris Becker with three titles at the All England Club.
Djokovic, 28, is the first man to successfully defend the title since the second-seeded Swiss won five in a row from 2003 to 2007. The men are now tied at 20-20 in a rivalry that started nine years ago on the clay of Monte Carlo.
"He's a great champion and one of the greatest challenges I've ever had to face," Djokovic said at the trophy ceremony to the crowd, which included International Olympic Committee President Thomas Bach, five-time champion Bjorn Borg and four-time winner Rod Laver in the royal box.
Djokovic, who again ate a bit of the Centre Court grass after winning, credited Becker with his victory, saying "he's contributed a lot," he added.
"Novak's not only played great today, but for the whole two weeks, plus last year, and the year before," Federer told the crowd. "He deserved it."
Two Tiebreaks
In the first set Sunday, Djokovic had been trailing 4-2 and saved two set points at 6-5 down with service winners before forcing a tiebreak with an ace. Leading 3-1, the Serb came out on top after a long baseline rally. Serving at 6-1 down, Federer gifted the set with a double fault.
The second set also went to a tiebreak after Djokovic squandered a set point at 5-4 on a forehand error. The crowd gave Federer a standing ovation after the Swiss saved six more set points to win 12-10 on a big serve followed by two backhand volleys. Djokovic was furious, hitting his racket on his foot three times and shouting at his box during the changeover.
Djokovic quickly recovered in the third set, breaking early on as he stood closer to the baseline to take the ball earlier. After a 15-minute rain delay at 3-2, Djokovic served out the third set to love with a smash.
With the sun now behind grey clouds, the wind picking up and the crowd growing quiet, the Swiss never recovered as unforced errors started to pile up. After setting up two championship points with a backhand on the line, Djokovic took the first one on a forehand winner.
"In the end, he was rock solid, he played great and I didn't play badly myself," Federer said.
Djokovic didn't have an easy run to the Wimbledon title, coming back from two sets down in the fourth round against Kevin Anderson, who hit 71 winners.
The 28-year-old is oldest man to reach nine grand slams. Federer, who turns 34 next month, won the ninth of his record 17 major titles at 25.
Serena Williams, 33, became the oldest woman to win the Wimbledon singles title by beating Spain's Garbine Muguruza 6-4, 6-4 on Saturday. Her 21st grand slam championship also completed a second "Serena slam" of four straight majors.
Before it's here, it's on the Bloomberg Terminal.
LEARN MORE