Bond Traders Put on Tenterhooks After Greece Given New Deadline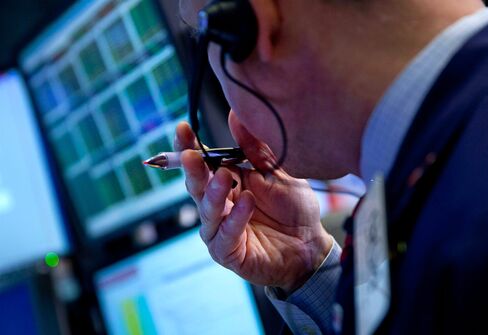 Bond investors who pushed up prices of Spanish and Italian securities on speculation a Greek bailout deal was in sight will have to put that optimism at bay.
Demand for haven assets boosted German bonds as European open on Monday after Prime Minister Alexis Tsipras was presented with a list of unfinished business from Greece's previous bailouts at an emergency summit that stretched in its 14th hour by 5:59 a.m. Monday in Brussels. Greece was given three days to pass austerity measures into law or risk a suspension from the euro area. The European Union previously set a Sunday deadline for an accord.
Traders may be caught off guard by the latest twist in Greece's debt saga. The premium they demand to hold Italian debt over Germany's narrowed by the most in almost three weeks on July 10 after Greece's proposals for a deal seemed set to advance negotiations and bring it back from the brink of expulsion from the currency bloc.
"Any spread-widening or market moves will be contained because no deal doesn't mean no further negotiations or a complete breakdown in communication," said Peter Chatwell, a fixed-income strategist at Mizuho International Plc. "While there is lack of trust, there will probably be some interim funds made available to Greece."
The yield on German 10-year bunds fell three basis points, or 0.03 percentage point, to 0.87 percent as of 7:19 a.m. London time on Monday. The 0.5 percent security due in February 2025 rose 0.225, or 2.25 euros per 1,000-euro (1,114) face amount, to 96.585. The yield climbed 18 basis points on July 10.
Sentiment Shift
German bonds fell last week while Spanish and Italian securities rallied as investors became increasingly optimistic that a deal for Greece would be struck. The region's bond markets have swung back and forth on shifts in sentiment toward Greece, though moves have been damped by investor speculation the European Central Bank would provide support in the event of a Greek exit.
The extra yield, or spread, investors demand to hold Italy's 10-year bonds instead of benchmark German securities widened nine basis points to 133 basis points on Monday. It reached a low for the year of 84 basis points in March and jumped as high as 199 basis points on June 29. The Spain-Germany spread was at 123 basis points.
While the ECB has frozen the level of emergency aid available to Greek lenders, its target for 60 billion euros a month of quantitative-easing debt purchases may continue to temper any selloff in the region's so-called periphery. Policy makers have emphasized that they have additional tools to tackle financial turbulence in the currency bloc and elsewhere.
Capital Controls
Greece's banks have been shut and capital controls imposed for the past two weeks. The stock market was also closed and the Bank of Greece halted dealing of government bonds on its electronic trading platform. The nation became the first developed country to miss a payment to the International Monetary Fund when it skipped a $1.7 billion obligation in June.
Greece has further payments coming due. A yen-denominated bond matures on July 14 and there are 11.7 billion yen ($96 million) of the notes outstanding.
"Markets are likely to exhibit some reversal of the strong risk-on moves at the end of last week," Barclays Plc strategists including Giuseppe Maraffino wrote in an e-mailed note. "There is still a possibility that the Greek Parliament might not be able to pass all the reforms until Wednesday successfully, and any government fallout in the meantime will put all the near-term payments at risk."
Payments Due
The Greek state is also due to pay 3.5 billion euros in bond redemptions to the ECB on July 20, as well as making various coupon payments before the end of the month.
"The Greeks would do best if they left the euro zone on their own, did their homework and then tried to come back," Slovak Prime Minister Robert Fico told reporters on a flight from Bratislava. "This is just torture for everybody."
French President Francois Hollande said on arriving at a meeting of euro-area leaders in Brussels that there should be no temporary exit and France would do everything to reach an agreement on Greece.
"I would expect a bit of a negative reaction given how much discussion there seemed to be about a plan for Grexit," Owen Callan, a fixed-income strategist at Cantor Fitzgerald LP in Dublin, said referring to a Greek exit from the euro. "But there shouldn't be a panic or severe risk-off. It's still very much on edge."
Before it's here, it's on the Bloomberg Terminal.
LEARN MORE