'Minions' Wins Box Office With Second-Biggest Animated Debut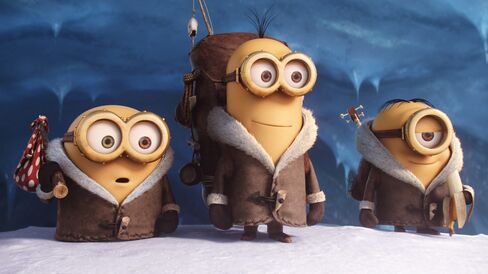 "Minions," the movie about goggle-wearing yellow creatures, captured the box office this weekend in the second-biggest animated-film debut ever, boosting Universal Pictures' lead in Hollywood.
The prequel to the "Despicable Me" animated series collected $115.7 million in weekend ticket sales in the U.S. and Canada, researcher Rentrak Corp. said Monday in an e-mailed statement. Warner Bros.' "The Gallows" opened with revenue of $9.8 million, while "Self/Less" from Universal's Focus Features produced $5.4 million.
The big opening for "Minions'" widens Universal Pictures' lead in domestic box-office sales, and gives the Comcast Corp. film division the chance to claim the full-year title for the first time since at least 1998. One possible threat to its dominance is Walt Disney Co.'s Dec. 18 release of "Star Wars: The Force Awakens," though much of that film's revenue will be collected in 2016.
By focusing on the most popular characters from the "Despicable Me" franchise, the film was bound to succeed. "Every time the 'Despicable Me' movies were in theaters, everyone was talking about the Minions," Paul Dergarabedian, Rentrak's senior media analyst, said by phone Sunday.
Universal Pictures mounted an extraordinary publicity campaign for the film, enlisting sponsors that included Amazon.com Inc., General Mills Inc., McDonald's Corp., parent Comcast and Snapchat Inc. The partners delivered $593 million in ads and promotions, the studio said.
Sandra Bullock
In this latest outing for the capsule-shaped characters, Chris Meledandri's Illumination Entertainment tracks the creation of minions from the beginning of time.
Kevin, along with teenage rebel Stuart and lovable Bob, have had little success keeping masters, including T. Rex and Napolean. They find their way to their next potential boss, Scarlet Overkill, whose voice is rendered by Sandra Bullock. The film also features the voices of Michael Keaton and Jon Hamm.
"Shrek the Third" remains the biggest animated debut in North America, generating $121.6 million for Paramount in its 2007 opening weekend, according to Rentrak. "Minions" stole the second spot from "Toy Story 3," which collected $110.3 million on its first weekend in 2010.
Sales Forecast
BoxOffice.com had forecast "Minions" to generate $114 million in its domestic debut, even as it didn't register as well with critics as the "Despicable Me" films. The picture garnered 55 percent positive reviews, according to Rottentomatoes.com, which aggregates comments. It had a budget of $74 million, according to the studio.
"It's not whether this prequel can mint money; that's a given," Peter Travers wrote in Rolling Stone. "The question is: Can the minions carry a movie all by their mischievous mini-selves? 'Fraid not."
Warner Bros.' "The Gallows," another horror film offering this year from producer Jason Blum, opened in fifth place. Acquired by the studio division of Time Warner Inc., the film was written and directed by Travis Cluff and Chris Lofing in the "found footage" genre of "The Blair Witch Project."
Caught on Tape
It tells the tale of students re-creating a fatal accident that happened 20 years before at a small-town high school play recorded by one of the parents. Their misguided attempt to honor the anniversary of the tragedy results in them re-awakening evil spirits.
The film, which generated less than the $12 million forecast by Boxoffice.com, was made for less than $2 million, according to a person with knowledge of the matter who asked not to be identified because the number isn't public.
The picture rated poorly with critics, garnering just 14 percent positive reviews, according to Rottentomatoes.com.
"Exaggerated screaming and squabbling doesn't cover up the inanity," Peter Keough wrote for the Boston Globe.
"Self/Less," a sci-fi thriller starring Ryan Reynolds, opened in eighth place for Universal's Focus Features.
Directed by Tarsem Singh, whose credits include "The Cell," the film tells the story of Damian, played by Ben Kingsley as a rich industrialist in his 60s dying of cancer. He is able to swap his body for a healthy one, that of 35-year-old Edward, played by Reynolds. The swap has a cost however, and not just financial, as he has to fight for survival.
Critics' Notes
The movie registered 21 percent positive reviews at Rottentomatoes.
"The elaborately convoluted, soul-swapping thriller 'Self/Less' squanders its intriguing premise with a loud and labored beat-the-bad-guys trajectory," Gary Goldstein wrote in the Los Angeles Times.
"Self/Less" was forecast to collect $3.8 million by Boxoffice.com. It had a budget of $26 million that was largely covered by pre-sales to foreign markets, a person with knowledge of the matter said.
Among returning films, Universal's "Jurassic World" produced sales of $18.2 million in its fifth week to place second, and "Inside Out," from Pixar, generated $17.7 million in its fourth week.
Weekend sales for the top 10 films climbed 51 percent to $202.4 million from a year earlier, Rentrak said. Sales for the year to date have increased 8 percent to $6.07 billion.
The following table has U.S. movie box-office figures provided by studios to Rentrak. The amounts are based on actual ticket sales for July 10 to July 12.
                     Rev.    Pct.             Avg./    Total
Movie               (mln)    Chg. Theaters  Theater    (mln) Wks
================================================================
1 Minions           $115.7     --    4,301  $26,905   $115.7   1
 2 Jurassic World     18.2    -38    3,441    5,275    590.7   5
 3 Inside Out         17.7    -41    3,644    4,848    284.2   4
 4 Terminator         13.8    -49    3,783    3,656     68.8   2
 5 Gallows             9.8     --    2,720    3,606      9.8   1
 6 Magic Mike XXL      9.6    -25    3,376    2,838     48.3   2
 7 Ted 2               5.7    -49    2,171    2,610     71.7   3
 8 Self/Less           5.4     --    2,353    2,296      5.4   1
 9 Max                 3.5    -46    2,088    1,697     33.8   3
10 Baahubali (Telugu)  3.1     --      170   18,053      4.4   1



Top 10 Films Grosses



   This Week     Year Ago      Pct.
     (mln)         (mln)       Chg.
===================================
    $202.4        $133.8       +51



Year-to-date Revenue



     2015          2014
      YTD           YTD        Pct.
     (mln)         (mln)       Chg.
===================================
    $6,074        $5,623       +8.0

Source: Rentrak Corp.
Before it's here, it's on the Bloomberg Terminal.
LEARN MORE