Toshiba Faces Probe by Regulator on Accounting, Nikkei Reports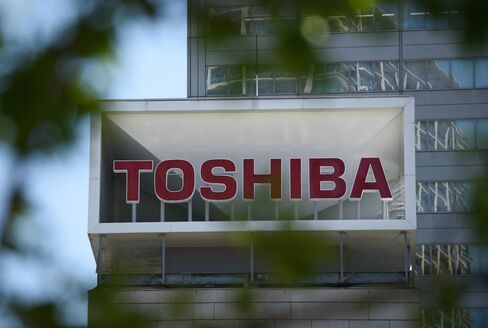 Japan's Securities and Exchange Surveillance Commission will investigate Toshiba Corp. after an independent probe found accounting irregularities at the company, the Nikkei newspaper reported Saturday.
The regulator's investigation will begin after the submission of a report as early as July 21 by a third-party committee that's been examining the company's accounting practices, the paper said without attribution. Hirokazu Tsukimoto, a Toshiba spokesman, said the company isn't in a position to comment on the Nikkei report.
The SESC will assess the possible impact on investors and recommend penalties if necessary to the Financial Services Agency, which will make a final decision on measures to be taken, according to the Nikkei.
Toshiba withdrew its earnings forecasts on May 8 and canceled the year-end dividend, citing irregularities related to "percentage of completion" estimates used on infrastructure projects. It has said the third-party probe is due to be completed by the middle of this month.
Toshiba President Hisao Tanaka is expected to resign over the probe, the Yomiuri reported Saturday, citing unidentified officials. Kyodo News also reported that Tanaka is expected to step down. Tsukimoto, the Toshiba spokesman, said that nothing has been decided and the company will clarify the management's responsibility after it receives the report by the third-party committee.
Shares in the Tokyo-based electronics maker are expected to be put on a watch list at the Tokyo Stock Exchange, the Yomiuri reported. The stock has tumbled 26 percent this year to close at
377.2 yen on Friday.
Phone calls made to the SESC and TSE weren't answered on Saturday.
Before it's here, it's on the Bloomberg Terminal.
LEARN MORE