Serena Slam Complete, Williams Wants U.S. Open to Reach Dream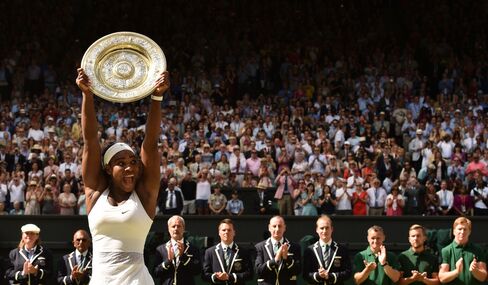 Serena Williams holds all four major tennis titles after her Wimbledon victory Saturday but she wants more.
A victory in New York in September would allow Williams to tie Steffi Graf's mark for 22 career grand slam titles, and give her a calendar slam, matching the one Graf garnered in 1988, the last time it happened. A self-styled "Serena slam," achieved with the 6-4, 6-4 defeat of Garbine Muguruza on Centre Court, isn't enough for the 33-year-old.
"I played Steffi a couple of times, and it was really one of the highlights of my career," Williams told a small group of reporters a few hours after her victory. Winning all four majors in one calendar year was "definitely a goal of mine when I was younger. Since then, it's become more of a distant dream, a fable, because I've never been this close. We'll see."
The American has won the title the last three years at Flushing Meadows.
The pressure of playing in front of a home crowd in New York will be "crazy big," her coach Patrick Mouratoglou said in an interview. "But we don't look at the top of mountain, we just look a bit above, and we take it step by step."
On Sunday, men's titleholder Novak Djokovic takes on 17-time major champion Roger Federer in the singles final. Although the Swiss 33-year-old has beaten Djokovic in 20 of their 39 matches, the Serbian prevailed in five sets in last year's final.
In some ways, Williams has already achieved more than Graf, who not only won all four majors in 1988 but also clinched Olympic gold. Williams won the Olympic singles and doubles titles in 2012 and doubles gold in 2008 and 2000. Saturday's victory marks the second time Williams completed a run of victories in four majors in a row. She also accomplished it in 2002-03.
The calendar slam is an achievable goal, said Mouratoglou, who has guided Williams to eight majors since they started working together shortly after the 2012 French Open.
"I believe that it's possible," the Frenchman said in an interview after the final. "I know how difficult it is, but I know also she can do it."
Two months shy of her 34th birthday, Williams has a stranglehold over the rest of the field. Five-time major winner Maria Sharapova may be ranked No. 2 and be five years younger, she's not beaten Williams since 2004. Two-time Wimbledon champion Petra Kvitova remains the only player born in the 1990s to have a major title.
Still, Williams said she never feels invincible on the court.
"I feel vulnerable, every single I step out there," she said. "It's just overcoming those feelings and being the best that I can on that day."
The main thing that could stop Williams from completing the calendar grand slam is herself.
"I have to make sure I am prepared," she said. "Physically right now, I feel really good. Fear and doubt can stop me too, when I step out on the court and I'm a little nervous or I'm fearful, that's never a good sign."
Against Muguruza, Williams dropped the opening game as she hit three double faults, and then let a 5-1 lead slip in the second set before restoring order and win on an error.
"I learned that she's also nervous, even though she played I don't know how many finals," Muguruza said in a news conference. "And she finds the way, being so nervous, to serve, to hit winners. She's world No. 1. That's what I saw today."
Williams said she hadn't thought about celebrating the All England Club title yet, but she would allow herself to "eat junk food for one day."
Then, she'll travel to the Swedish coastal town of Bastad to play a tournament on clay that starts Monday.
"I had a great time the last time I was there, and I didn't play last year," she said. "It's kind of like a mini vacation."
Williams credited Mouratoglou with her success in recent years.
"Every time I play an opponent, I have a really good strategy going out there," she said. "I know what to expect, I know what to do and I know how to play and I know how to react. It's been really good to have that extra ear."
Mouratoglou is trying to maintain Williams's mindset from Wimbledon, where she had to beat three grand slam champions -- her sister Venus, Victoria Azarenka and Sharapova -- to reach the finals, and then won in straight sets despite nerves and not serving at her best.
"Trying to keep focused on tomorrow, the next opponent, the strategy that you have to use against the opponent," he said. "It's just a case of staying there. Keep your mind here. If you really go to the next step every time, at the end you might realize you are there."
Before it's here, it's on the Bloomberg Terminal.
LEARN MORE