IS Claims Credit for Bombing Italian Consulate in Cairo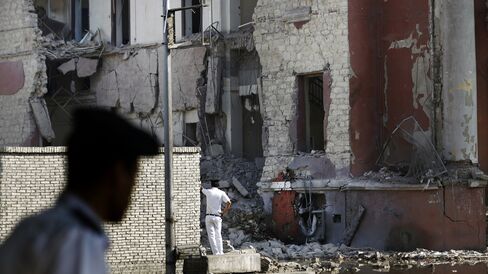 Islamic State claimed responsibility for an explosion Saturday that ripped through the Italian consulate building in central Cairo, the first attack in Egypt against a foreign mission since violence in the country escalated two years ago.
The consulate was targeted by a car laden with explosives, the militant group said in a Twitter post. The blast, which took place at about 6:30 a.m. local time, killed one person and wounded eight, the Interior Ministry said in a statement. No Italians were hurt, Foreign Minister Paolo Gentiloni said on Twitter.
Egyptian authorities are struggling to stem a surge in violence since the military-led ouster of Islamist President Mohamed Mursi in July 2013. The blast comes less than two weeks after the nation's top prosecutor was assassinated in Cairo, raising concerns that militant attacks, which have been largely confined to the restive Northern Sinai province, are gradually spreading to other parts of the country.
"We won't leave Egypt by itself," Italian Prime Minister Matteo Renzi said in a statement. "Italy and Egypt are and will be together in the fight against terrorism."
The consulate is located in one of the busiest areas in central Cairo. Several other buildings in the area were damaged in the explosion, which also destroyed the main underground pipes supplying downtown Cairo with water, said Mostafa El Shimi, vice chairman of Greater Cairo Water Company.
'Legitimate Targets'
Locations like the Italian consulate building are "legitimate targets," and people should stay away from them, Islamic State said in its Twitter post.
Egypt blames most of the recent violence on Mursi's Muslim Brotherhood. The organization is now classified as a terrorist group.
"It was very loud, very frightening," Abdo El-Rashidy, a security guard at the consulate, said of Saturday's blast. "The windows and doors of one side of the consulate were shattered."
Before it's here, it's on the Bloomberg Terminal.
LEARN MORE