Bali Airport Reopens After Erupting Volcano Sparked Closures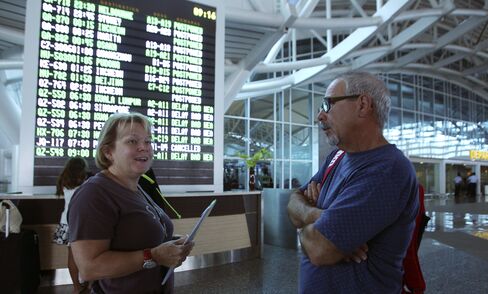 Bali's international airport reopened Saturday morning after being closed since late Thursday due to a volcanic eruption that left thousands of travelers stranded.
The airport reopened as of 10 a.m. local time, said J.A. Barata, a spokesman at Indonesia's Transport Ministry. Banyuwangi and Jember airports on the nearby island of Java remain closed, he said. Jetstar Airways Pty. was resuming at least two flights Saturday between Perth and Bali, one in either direction, it said in a statement.
The Volcanic Ash Advisory Centre determined that "flying conditions have improved as the ash cloud has moved southwest of Bali this morning," Jetstar said.
Mount Raung in East Java was still erupting with ash clouds reaching as high as 400 meters (1,312 feet) to 500 meters, Sutopo Purwo Nugroho, a spokesman at the National Disaster Mitigation Agency, said Saturday.
The closure of the airports in Bali, Lombok and Java forced Singapore Airlines Ltd., PT Garuda Indonesia Ltd. and other carriers to cancel hundreds of flights, disrupting the area's key tourism industry.
Bali's beaches, surfing, culture and nightlife make it among Asia's most popular destinations, with mid-year traditionally the high season for visitors.
Travelers Stranded
"If it lasts three to four days the impact will be significant," Ngurah Wijaya, chairman of the Bali Tourism Board, said by telephone on Friday. "We have to deal not only with cancellations from tourists but also we have to take care of those who are stranded here because they cannot leave."
Garuda, the flag carrier, said Friday that it wouldn't accept bookings for Saturday flights serving Bali or neighboring Lombok. Some 3,000 travelers were stranded Friday in the Bali airport, the Indonesian news site Detik reported.
Indonesia's vulcanology center and the energy ministry's geological disaster mitigation division raised the alert status for Mount Raung on June 29. The volcano last had a major eruption in 1956.
If Mount Raung continues to erupt "it is likely that operations could be disrupted again over the next few days if there are changes to wind conditions," Virgin Australia Holdings Ltd said in a statement on its website. The airline expects to resume flight operations later today.
Flights are also being disrupted by Typhoon Chan-hom. AirAsia Bhd canceled some Saturday flights in and out of China in advance of the typhoon, according to an e-mailed statement. The local government in Zhejiang province in the east has evacuated more than 865,000 people and closed highways in some cities that are expected to be hit, China Central Television reported.
Before it's here, it's on the Bloomberg Terminal.
LEARN MORE