Tsipras's Referendum Costs Greeks Dearly as Growth Sputters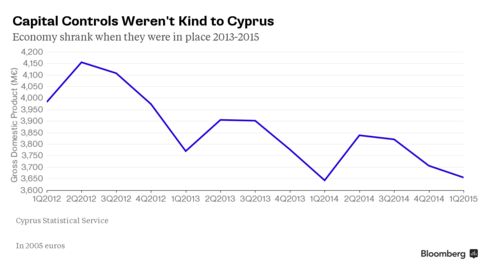 Greek Prime Minister Alexis Tsipras's referendum gambit may have strengthened his hand politically. In economic terms, his country has paid dearly.
Two weeks after halting talks with European creditors by calling a referendum on a draft plan, and six days after voters rejected it, the Tsipras government laid out a package of reforms that mirrors what had been on the table. Also requested: 53.5 billion euros ($59.4 billion) in debt-refinancing loans over three years.
Since the June 26 plan, Greece has imposed capital controls, limited cash withdrawals and rationed pensions. Business has virtually ground to a stop. While economists are reluctant to put a precise price tag on those developments, they see the cost spiraling into billions of euros at a time when the government is already struggling to pay its bills.
"The impact is huge and the reason is the capital controls," said Gabriel Sterne, head of macro research at Oxford Economics in London. "It's not just the last two weeks. This is a situation that will last whether or not an agreement is reached. You can be absolutely sure that there will be significant negative growth in the second half of the year."
In the best case, the turmoil will probably reduce Greece's gross domestic product by at least 1 percent this year, according to economists including Holger Schmieding of Berenberg Bank. That amounts to lost output of 1.8 billion euros in the full year.
"I would compare this with the impact of a major strike," Schmieding said. Growth usually rebounds in the days after the event but "the problem is that now this has gone on for two weeks. Even if there is a deal, things won't stabilize immediately. Greece will also probably suffer reputational damage in terms of its ability to attract capital and locally, consumers will remain reluctant to spend and businesses reluctant to hire."
The package of spending cuts, pension savings and tax increases was being studied on Friday by the European Commission, the International Monetary Fund and the European Central Bank. The euro group of finance ministers will gather Saturday in Brussels to review the package and European Union leaders will decide wither it passes muster on Sunday.
The plan will then have to be approved by at least six parliaments in the euro area, meaning further political difficulties may lie ahead. Tsipras also faces opposition within his own Syriza party.
When Cyprus imposed restrictions on withdrawals in March 2013, its economy contracted 3.3 percent in the quarter and 1.7 percent in the subsequent three-month period. Controls remained in place for two years and it took more than a year for the economy to begin expanding again.
"The point people don't appreciate is that you had gone from Syriza-type government in Cyprus that created the mess to center-right coalition that was more pro-austerity and reform than the IMF," Sterne said. "That actually built credibility very quickly. That isn't going to happen in Greece and so the recovery is going to take much longer."
With cash withdrawals limited to 60 euros a day and businesses cut off from international trade and finance, the economy will remain virtually frozen for now.
"As long as there isn't enough confidence for deposits to return to banks, capital controls will remain and that has an incredible impact on the economy," said Francois Cabau, an economist at Barclays Plc in London. "And at the political level, even if there is agreement on Sunday there is an enormous amount of work to be done."
Before it's here, it's on the Bloomberg Terminal.
LEARN MORE