Pope Apologizes for Church Abuse in Conquest of the Americas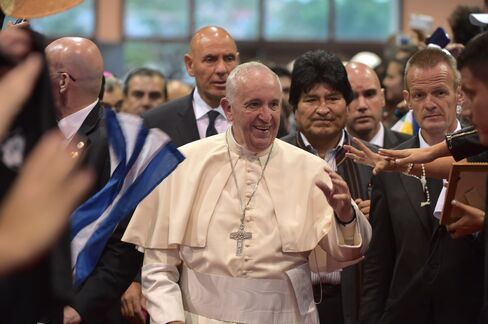 Pope Francis asked for forgiveness for crimes committed by the Catholic Church during the colonization of the Americas at a summit in Bolivia, home to one of the region's largest indigenous populations.
"I say with sorrow that the church has committed many serious sins against the indigenous peoples of America in the name of God," Francis said to applause at a summit of popular movements in Santa Cruz, Bolivia on Thursday. "I humbly ask for forgiveness not only for the offenses of the church itself, but also for the crimes against native peoples during the so-called conquest of America."
Pope Francis, on his second stop in a three-nation tour of Latin America, also defended the church and denounced the modern-day persecution of its members for speaking out against injustices and powerful interests.
"Today we are dismayed to see how in the Middle East and elsewhere in the world many of our brothers and sisters are persecuted, tortured and killed for their faith in Jesus," Francis said. "This too needs to be denounced," he said; in this "third world war," waged piecemeal, "which we are now experiencing, a form of genocide is taking place, and it must end."
'Looting' the Earth
The pope reiterated his call for a greater defense of the environment, saying modern capitalism is "looting" the earth and pushed world leaders to take concrete steps to protect nature. The comments echo his encyclical Laudato Si (Praised Be) on the environment, a letter to bishops in which he attacked political and business leaders for the impact of profit-motivated development on the environment.
"Perhaps the most important thing we can do today is defend Mother Earth," the pope said. "We can't allow certain interests, which are global but not universal, to impose and subject nations and international organizations and continue destroying creation."
Pope Francis is scheduled to fly to Paraguay Friday, where he will meet with President Horacio Cartes, and celebrate a mass on Saturday. He is scheduled to leave for Rome on July 12.
Before it's here, it's on the Bloomberg Terminal.
LEARN MORE