NYC Parade for World Cup Champs Lures Wall Street Neighborhood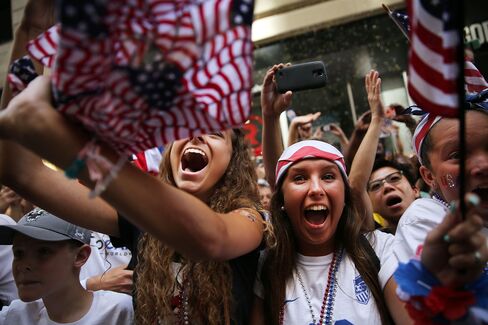 The Greek debt standoff and a rally in global stocks weren't enough to keep some Wall Street-area workers indoors Friday as a ticker-tape parade for the U.S. women's soccer team filed by in Lower Manhattan.
Suit-clad employees of neighborhood firms joined families and flag-waving teenage girls lining the parade route through the Canyon of Heroes, five days after the U.S. squad defeated Japan for its first World Cup victory since 1999.
"I just took a break, came down for five minutes," said Donald O'Keefe, 58, an account executive at ALM Media, which has an office on Broadway. "With everything going on, it's something positive for once."
It was the city's first ticker-tape parade since the National Football League's New York Giants won the Super Bowl in 2012, and the first to honor a women's team.
The event kicked off at 11 a.m. local time as global stocks were surging on growing confidence that Greek leaders will arrange a bailout. It ended at City Hall at about noon.
As confetti poured down on the procession's floats and thousands of cheering onlookers, workers from local buildings peered out, including one group that draped an American flag from the windows of a building where BNY Mellon has offices.
"It's kind of amazing," said Myron Fox, who said he works as an account manager at Ambu A/S. "It brings every segment of society together," he said as his 17-year-old daughter stood nearby sporting the jersey of striker Alex Morgan.
Before it's here, it's on the Bloomberg Terminal.
LEARN MORE