Mercedes Beats Audi on Sales Gains in Sluggish China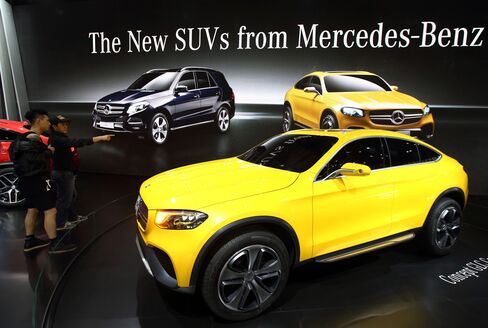 Mercedes-Benz, the world's third-largest maker of luxury cars, beat Audi in global deliveries in June, narrowing the gap to its rival on a 39 percent surge in China.
After the first six months of 2015, Mercedes trails Audi by fewer than 4,000 cars and stands to overtake the luxury division of Volkswagen AG in full-year sales if growth trends for the two brands continue.
"Mercedes is firing on all cylinders," said Arndt Ellinghorst, a London-based analyst with Evercore ISI. "It's good. It helps stimulate the business when everyone has a competitive line of products."
Backed by demand for models such as the C-Class sedan, deliveries by Daimler AG's Mercedes jumped 19 percent to 169,616 vehicles last month, while Audi sold 157,450 cars, a gain of 1.3 percent. The VW unit was held back by a 5.8 percent drop in China, where industrywide deliveries are forecast to expand at the slowest pace in four years. BMW remained in the luxury segment's top spot in June, with sales rising 5 percent to 172,437 cars. Its deliveries in China slipped 0.1 percent.
Auto sales in China fell 3.2 percent last month, the first decline in more than two years, as economic growth slowed and a stock-market rout weighed on consumer sentiment. The country's auto market has been the key growth driver for luxury-car makers in recent years.
Audi and Mercedes are locked in a race to displace Munich-based BMW as the world's best-selling luxury-car brand by the end of the decade. The slowdown in China adds pressure in the fight for market share.
During the first half of the year, Mercedes sales rose at almost three times the pace of BMW, gaining 15 percent to 898,425 cars. BMW AG's namesake brand increased sales 5.1 percent to 932,041 autos. Audi sales rose 3.8 percent to 902,400.
Before it's here, it's on the Bloomberg Terminal.
LEARN MORE