Lockheed in Advanced Talks on $8 Billion Sikorsky Deal, WSJ Says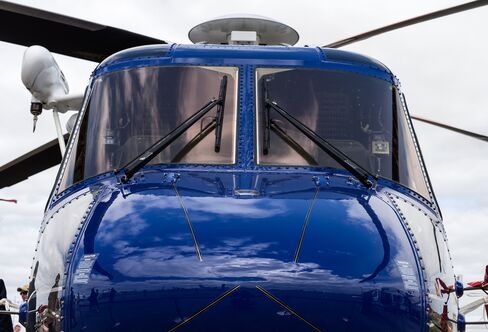 Lockheed Martin Corp. is in advanced talks to acquire United Technologies Corp.'s Sikorsky helicopter business, the Wall Street Journal reported.
A deal valued at more than $8 billion could be reached in the coming days, the Journal said Friday, citing unidentified people familiar with the matter. The discussions could still fall apart, according to the newspaper.
United Technologies said in March that it planned to sell or spin off the maker of Black Hawk helicopters, which the company has owned for almost 90 years. Chief Executive Officer Gregory Hayes said last month that a decision on a sale versus a spinoff could come as soon as the end of July.
Hartford, Connecticut-based United Technologies is unloading Sikorsky to focus on manufacturing divisions spanning jet engines, elevators and air conditioners.
United Technologies spokesman John Moran declined to comment and a spokesman at Bethesda, Maryland-based Lockheed Martin couldn't immediately be reached for comment.
Lockheed and Textron Inc. were identified as finalists to buy Sikorsky in a report on Wednesday by Reuters, which cited unidentified people familiar with the matter.
Before it's here, it's on the Bloomberg Terminal.
LEARN MORE