Greece Will Deal or Default Soon. What Next?
The what-ifs for Greece, and its creditors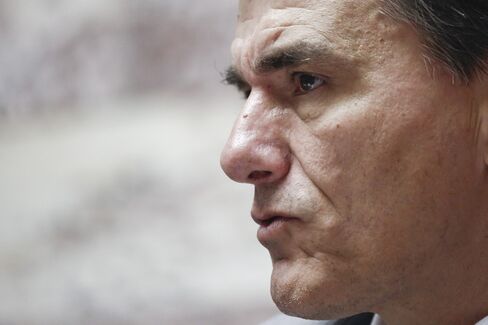 Markets are reacting positively after Greek Prime Minister Alexis Tsipras agreed to most of the demands made by creditors in exchange for bailout funds. Analysts at Royal Bank of Scotland say a Greek debt deal is now more likely and Deutsche Bank and Daiwa see the latest developments as positive.
Greece has requested a three-year bailout loan from the European Stability Mechanism and will hear over the weekend whether the request will be granted. If no agreement is reached, the European Central Bank may decide on Monday it can no longer provide the country's banks with emergency funding, paving the way for IOUs and an eventual exit from the euro.
Alberto Gallo, RBS's head of macro credit strategy, calculates the total minimum direct financial cost of Greece leaving the euro zone would be 227 billion euros ($252 billion), while a restructuring would cost 60 billion to 130 billion euros.
WHO APPROVES AN ESM LOAN FOR GREECE?
All ESM member countries must reach mutual agreement before assistance can be extended to Greece.

If mutual agreement can't be reached, the European Commission and the ECB can change the voting procedure to emergency mode if a failure to decide urgently would threaten the sustainability of the euro area.

In which case, only Germany, France or Italy could individually block ESM support.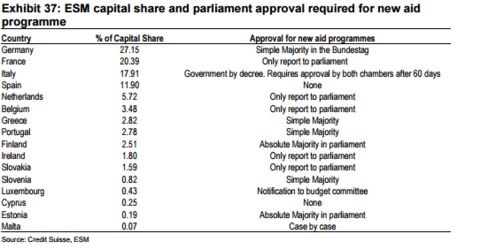 HOW MUCH IS THE EURO ZONE EXPOSED TO GREECE IF IT DEFAULTS?
The euro area has built up over 300 billion euros of exposure to Greece, Deutsche Bank says.
RBC Capital Markets says Greek exposure through the European Financial Stability Facility would appear manageable in worst-case scenario as guarantees constitute about 1 percent to 3 percent of member states' nominal GDP, and are already included in calculations of states' gross debt ratio.
Deutsche Bank points out that European countries are also exposed via the ECB's holdings of Greek debt and Greece's banking system.
Greece's banking sector is more likely than financial markets to transmit a shock to other parts of Europe, although the impact may not take effect immediately, according to Credit Suisse analyst Giovanni Zanni.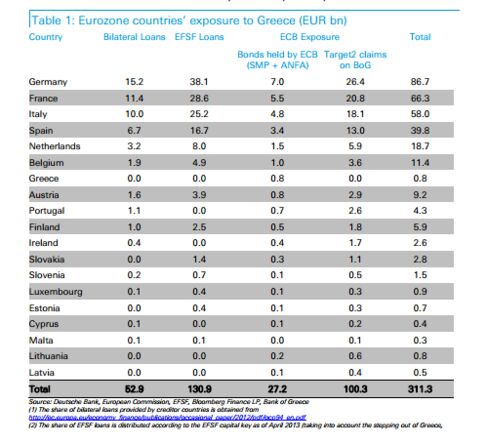 WHAT ARE THE CONSEQUENCES FOR CREDITORS IF GREECE DEFAULTS?
A large-scale Greece default would wipe out the capital base of official lenders, requiring a significant refunding effort by European nations, RBC Global Asset Management said this week.
Deutsche Bank and Credit Suisse say the impact may be much lower than the numbers suggest.
That appeared to be confirmed by the EFSF on Thursday as the fund's spokesman said member states guarantee EFSF bonds, not the EFSF loans to Greece.
The impact on the guarantors would be close to zero until 2023 as Greece isn't paying principal on its loans until then, according to the ESM.
Credit Suisse says Greece defaulting won't lead to a flood of issuance by the guarantor sovereigns as the fund can step in to pay coupons as bonds mature.
If the EFSF were to cut its outstanding bonds, the guarantors would need to step in to pay at least part of the coupons and the redemptions.
Even then, the highest amount of redemptions is 25 billion euros in 2017, suggesting German issuance would rise by about 1 billion euros.
RBC Capital Markets says euro member states are unlikely to be on the hook immediately for the full amount of EFSF guarantee payments. The framework would also allow any state to "step out" of guarantee structure if it finds itself in need of financial assistance and is unable to fulfill guarantees.
WHAT IF GREECE DOESN'T REPAY THE GREEK LOAN FACILITY?
Total amount disbursed through Greek Loan Facility was 52.9 billion euros, according to RBC Capital Markets. This was done on bilateral basis, with Germany, France, Italy and Spain together accounting for more than 80 percent of disbursements; creditors should bear costs associated with individual disbursements.
Deutsche Bank says default on the Greek Loan Facility will result in an economic loss for creditor countries but won't result in any additional funding needs nor will it raise their debt. Loans were already accounted for in the government debt of creditors.
WHAT ABOUT ECB EXPOSURE?
The impact on euro-zone creditors of ECB exposure to Greece is the trickiest to assess, according to Deutsche Bank; exposure likely to be as much as 128 billion euros, taking into account full amount of holdings of Greek government debt and Target 2 liabilities.
The ECB should have capacity to withstand any losses without any further capital calls on national central banks.
If the ECB were to make a capital call rather than write down its revaluation reserves, it can afford to do so over a number of years rather than an immediate upfront capital call.
A call on national governments would result in need for them to raise additional funds and boost their debt levels.
The Eurosystem as a whole had 98.5 billion euros of capital and reserves as of June 18, and 403.3 billion euros in revaluation accounts, signaling immediate loss-absorbing capacity is "significant," according to RBC Capital Markets.
Article corrected to show that all ESM members must reach agreement before assistance can be extended to Greece.
Before it's here, it's on the Bloomberg Terminal.
LEARN MORE