Global Stock Carnage Ignores Mexico ETF Leading Weekly Inflows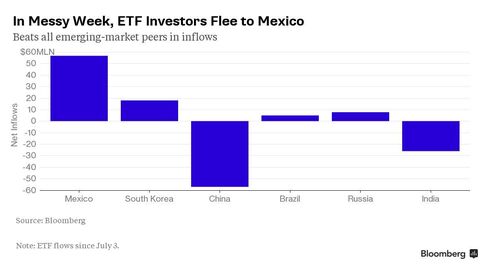 In a week in which crises in Greece and China spurred a selloff in global markets, Mexico's biggest exchange-traded fund made out quite nicely.
Investors have poured a net $56.9 million into the iShares MSCI Mexico Capped ETF since July 3, compared with outflows of $641.6 million for global funds excluding the U.S. Brazil ETFs had an inflow of $5.2 million, while China-focused funds posted withdrawals of $56.9 million during the same span.
Mexican funds had posted the second-biggest outflow among emerging markets in the first half of 2015 as the government and central bank cut economic growth forecasts. Global stocks rallied Friday on growing confidence in Greece's ability to clinch a bailout after almost $6 trillion was wiped from equities in the past two months.
Investors are now are showing confidence that the outlook for Latin America's second-biggest economy is improving amid signs of an acceleration in the U.S., the destination for about 80 percent of Mexico's exports, according to Jorge Lagunas, the head equity trader at Interacciones Casa de Bolsa SA.
"They're seeing Mexico as one of the best emerging markets," he said in an e-mail from Mexico City.
The iShares MSCI Mexico fund has fallen 3.2 percent this year.
Before it's here, it's on the Bloomberg Terminal.
LEARN MORE