FIFA's Blatter Says Criticism Is Unfair, Reforms Trump Elections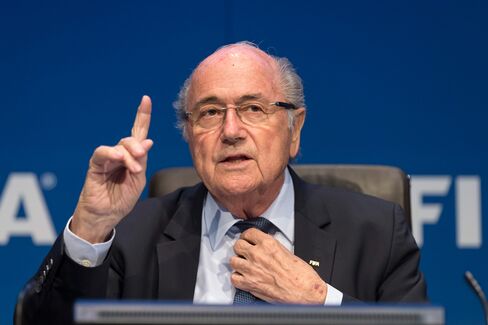 FIFA president Sepp Blatter, who plans to step down amid a corruption scandal at soccer's governing body, said he is being unfairly targeted with criticism.
Writing in FIFA's in-house magazine, Blatter said the upcoming election to find his replacement within the next five to seven months was a "sideshow" and more important were reforms to make the executive committee more accountable.
Blatter has overseen the organization for 17 years. In May, members of the executive board were indicted in the U.S. on charges including racketeering, conspiracy and corruption.
The executives, delegated by regional confederations, should be elected by FIFA's congress and undergo integrity checks, Blatter wrote.
"The popular outrage concerning FIFA in recent weeks has mainly been directed at me personally," Blatter wrote. "I have no problem with this. I can defend myself. However, I would appeal for fairness. I bear no responsibility" for executives I did not elect.
Uruguay's Eugenio Figueredo and Jeffrey Webb from the Cayman Islands were among FIFA officials indicted by the U.S. Department of Justice. Days after he was re-elected to a fifth term in May, Blatter announced he would stand down. FIFA executives are scheduled to meet in Zurich on July 20 to set the dates of a new presidential election.
Read this next:
Before it's here, it's on the Bloomberg Terminal.
LEARN MORE