Federer Outserves Murray to Set Up Djokovic Rematch in Finals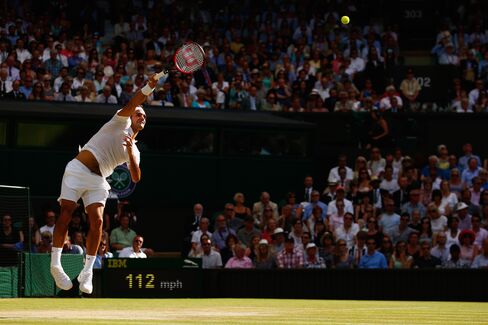 After overwhelming Andy Murray with 56 winners including 20 aces, Roger Federer faces defending champion Novak Djokovic for the Wimbledon title.
Federer, a seven-time champion, never got broken as he defeated 2013 champion Murray 7-5, 7-5, 6-4 on a warm day on Centre Court Friday. The Swiss, playing in his 63rd consecutive grand slam, has never lost a semifinal at Wimbledon.
"One of the best matches I've played in my career," Federer said in a news conference after the match Friday. "I served a very high first-serve percentage plus going big. So definitely it was one of my best serving days of my career."
Serena Williams plays Garbine Muguruza in the women's finals Saturday. The top-ranked American is trying to win her 21st grand slam singles title, which would give her a second so-called Serena slam of holding all four majors in a row. It's the first final for the 21-year-old Spaniard, who beat Williams at last year's French Open, while she lost to the American twice at the Australian Open.
Williams, 33, would be the oldest winner of a grand slam since the open era started in 1968.
Although Federer turns 34 next month and is the oldest man to reach the finals since Ken Rosewall in 1974, he dominated his 28-year-old opponent for most of the match with powerful serves, net rushes and passings. Federer won 84 percent of the points on his first serve, compared with 71 percent for Murray. Federer has only been broken once all tournament -- by France's Gilles Simon in the quarterfinals -- and moved to his 10th championship match having hit 67 aces over the two-week period.
"He served fantastic," Murray said in a news conference. The Briton, one of the best returners in the men's game, said he never got a grip on Federer's serve. "He served close to the lines, it made it very difficult for me."
Since Federer started working with former Wimbledon winner Stefan Edberg at the start of last season, he's become a far more aggressive player, rushing to the net whenever he can to finish off the points.
Earlier in the day, the top-seeded Djokovic overcame a first-set challenge by Richard Gasquet of France to win 7-6 (7-2), 6-4, 6-4.
Djokovic Trails
Although Djokovic trails the Swiss 19-20, he beat him in last year's finals in a close five-set match.
"To win that match in five sets against Roger on grass was definitely something that gave me a lot of confidence," Djokovic said in a news conference.
Federer and Murray both had the crowd on their feet at times, such as at 3-2 in the second set when Federer lost a long rally of mostly low backhand slices that seemed to float over the net. And again when Murray saved five set points before holding with an ace during a 15-minute game as he trailed 5-4.
While Federer was almost untouchable on his serve -- facing only one break point -- Murray ended up losing the first two sets because he made unforced errors at crucial times.
At 6-5 down in the first set, Murray lost his focus momentarily when he dumped a ball in the net after Federer flicked a backhand passing shot. After the second-seeded Swiss crunched a forehand return to set up two set points, Murray saved the first one, before succumbing on the second as his opponent drilled a backhand into the Scot at the net.
Serving to stay in the second set at 6-5 down after Federer held to love, Murray gifted his opponent a sixth set point with a backhand in the net. Federer converted it this time, taking a two-set lead as he outplayed Murray in a long rally that he finished with a forehand volley.
"I stayed calm," Federer said about missing five set points at the end of the second set. "Kept the pressure up, and then I pounced."
Federer created his first match point in the third set as he crunched a backhand return. He moved to the finals on yet another untimely unforced error by Murray, his 17th of the match.
Djokovic, also the champion in 2011, said playing Federer on grass at Wimbledon is "probably the biggest challenge I can have."
"This is where he loves to play," Djokovic said. "This is where he plays his best tennis. The Centre Court of Wimbledon, seven titles. It's his court. He loves it. He usually rises up to the occasion. He's always playing his toughest when it matters the most."
Federer said he was ready for the Serb on Sunday.
"Novak's been the best player for a few years now," he said. "But I know how I can beat him. I really hope I can get this one on Sunday."
Before it's here, it's on the Bloomberg Terminal.
LEARN MORE