A Different Kind of Ride-Sharing
Carpooling marketplace BlaBlaCar is swallowing smaller rivals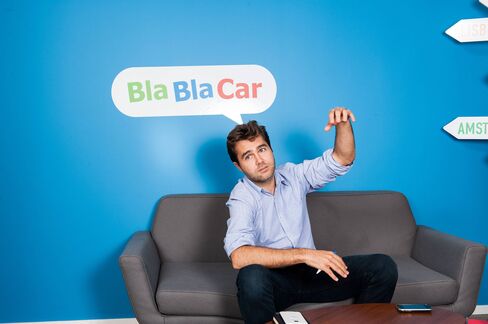 The Ubers and Lyfts of the world are often described as ride-sharing services, but that's not quite what they are. When hailing a ride with those apps, you hop into a car with a more or less professional driver who picks up another fare after dropping you off. Functioning as a taxi service without the same accreditation continues to pose problems for such companies. Uber suspended its cheapest service in France on July 3 after the Paris prosecutor's office charged its top two executives there with "misleading commercial practices" and "complicity in the illegal exercise of the taxi profession." The company said in a statement that it wants to continue discussing regulations with the government.
Paris startup BlaBlaCar works differently. Its marketplace matches drivers who have empty seats for long-distance drives with passengers going the same way and makes them arrange how they'll divvy up fuel and tolls—in other words, a carpool. To avoid provoking regulators in the 19 countries where it operates, BlaBlaCar limits what drivers can charge, ostensibly keeping them from turning a profit. On a recent look, the site offered a seat in a Peugeot from Barcelona to Madrid for €25 ($27.65); and London to Manchester for £15 ($23.01) in a Mercedes. "You have no regulation issues, you have no tax issues, you have no insurance issues, because people are sharing a cost," says Nicolas Brusson, co-founder and chief operating officer.
About 3 million people use BlaBlaCar monthly to arrange trips; the company makes its money from 10 percent service fees on passengers. It requires drivers and passengers to register as members—it has more than 20 million—and encourages reviews from both. The feedback "creates trust and a fair economic incentive," says Philippe Botteri, a partner at BlaBlaCar investor Accel Partners, and has helped make BlaBlaCar the leading carpool business in Europe. The company has raised about $110 million since it was founded in Paris in 2006. Now it's seeking new investment that would value it at more than $1 billion, according to three people with knowledge of the matter.
Brusson declined to comment on the company's financing or valuation beyond saying he regularly meets with investors to discuss ideas for expansion. In April, BlaBlaCar announced it had acquired its main European rival, Munich-based Carpooling.com, as well as Budapest's AutoHop. (Prices weren't disclosed.) The same month, BlaBlaCar expanded to Latin America, starting in Mexico. The company has more than doubled its head count since 2014, to 340 employees, and Brusson says he'll hire 100 more by yearend.
In Mexico and other new markets, including India, BlaBlaCar generally doesn't take its cut for at least the first year. Government officials in France, India, and the U.K. have been encouraging, Brusson says, because they have a vested interest in reducing traffic. Early next year he plans to expand to Brazil, and he's confident more countries in Latin America and Asia will follow. "Demand is growing like crazy," he says.
The U.S., however, ranks low on BlaBlaCar's to-do list. (Brusson says it's "not the best market" for his model.) In the past year, Uber and Lyft have piloted short-distance services for more than one customer. Lyft says its multiple-pickup service, Line, accounts for more than half the rides it arranges in San Francisco, though it wouldn't say how many. Uber says its similar service, Pool, has provided millions of trips. Even at a $1 billion valuation, the French service likely wouldn't try to muscle in on the American heavyweights. Lighter regulatory burdens aren't a match for a bigger network of drivers, says Amanda Burleigh, an analyst at researcher Euromonitor: "A competitor would have to offer a significantly better service."
The bottom line: Leading European carpool app BlaBlaCar is trying to join the $1 billion club but is avoiding the U.S. as it expands abroad.
Before it's here, it's on the Bloomberg Terminal.
LEARN MORE