Below-Average S&P 500 Readings Seen as Little Reason for Concern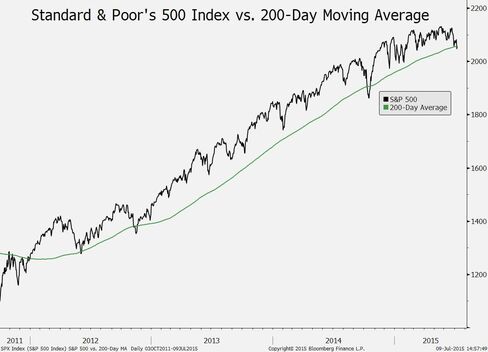 The Standard & Poor's 500 Index's dip below a level tracked by chart watchers might be less of a reason for concern than usual, according to Ryan Detrick, a former money manager at Haberer Registered Investment Advisor Inc.
As the attached chart shows, the S&P 500 fell this week below its 200-day moving average, a gauge of its performance over time. The index breached the average in the last three trading days, and closed lower in the last two.
Stocks fall more often when the S&P 500 is lower than the 200-day average than when it's higher, Detrick wrote yesterday in a posting on Yahoo! Finance. He based this conclusion on an analysis of the index since 1928, when calculations begin. Yet the Cincinnati-based analyst wrote that the pattern may not hold with this week's slump for two reasons:
-- The S&P 500 stayed within 5 percent of its record, set May 21. Stocks did relatively well in the past when the gap was that small, according to data compiled by Detrick. For example, the index rose 79 percent of the time in the next three months and added 4.6 percent on average. For gaps exceeding 5 percent, the figures were 53 percent and 0.8 percent, respectively.
-- The timing of the move. July was the only month in which the S&P 500 had a day-to-day gain on average when it was below the 200-day reading. The 0.05 percent advance contrasted with losses that reached 0.30 percent in other months.
"Breaking the 200-day so close to new highs might not be such a bearish event," he wrote. "The fact that it happened in July might also be a plus."
Before it's here, it's on the Bloomberg Terminal.
LEARN MORE