Barcelona-to-Ibiza Row Challenges Traders Raising Money for HPV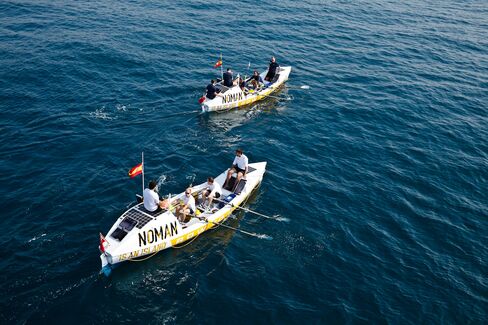 Self-sustained rowing race expected to take 72-96 hours

NOMAN's goal is to raise over $300,000 for HPV, rare cancers
Jason Lupatkin said the thousands of hours he's spent rowing in sculls, including as a former captain of the Stanford University crew team, haven't prepared him for his latest boating adventure.
The 24-year-old Thiel Macro LLC commodities trader is part of a group of nine men -- mostly financial professionals -- who are rowing the 200 miles(320 kilometers) from Barcelona to the island of Ibiza to raise money and awareness for human papillomavirus, or HPV, prevention.
Participants in two 24-foot boats will race across the Mediterranean Sea, trading time at the oars with turns cooking dehydrated food and taking power naps in tiny cabins at the stern and bow. The crossing begins Monday, weather permitting, and is expected to take between 72 and 96 hours.
"I wish I could say I know how I'm going to feel, but I don't," Lupatkin said. "The thing is with rowing, you just have to keep going, do whatever it takes to push back that breakage point."
The rowers have a target to raise at least $300,000 for the HPV and Anal Cancer Foundation. The charity was co-founded by Tristan Almada and his sisters, Justine and Camille, after their mother Paulette died from HPV-related anal cancer in 2010.
HPV is linked to 5 percent of cancers, including anal, penile, cervical and vaginal, which Almada said have stigmatized those infected and slowed fundraising. The virus can be prevented with a vaccine.
"We can literally eliminate this problem overnight," Almada, 30, said in a telephone interview. "It's hard to find such low-hanging fruit when you're talking about preventing cancer."
John Donne
Alongside the charity the Almadas started the NOMAN Campaign-- named after John Donne's poem "No Man is an Island" -- which has raised almost $2 million in the past three years through endurance challenges. There have been NOMAN cycling teams at stage races in Europe and the group has organized a few rowing trips, including one from California to Hawaii.
Tim Glynn and Conor Murphy, Irish traders in the London office of Goldman Sachs Group Inc., did most of their training on stationary rowing machines together in the company's basement gym before and after work. A former rugby player, Glynn had never rowed in open water when he joined the NOMAN group; Murphy, once a semi-professional gaelic football player, estimates the longest he'd ever gone on stationary rowing machine was one kilometer (0.6 mile).
Regardless of rowing experience -- be it four career miles or a four-year career at Stanford -- participants agree there's no training for what they'll encounter this week.
"There are obstacles in the water, like tide, current, navigation and wind," Glynn, 26, said. "It's not as straightforward as pure willpower."
The boats have two rowing seats, so both teams will split the duties, following a two hours on, two hours off schedule. NOMAN, which is tracking the race on its website, estimates team members will burn around 25,000 calories during the crossing.
Tristan Alamada did the same row two years ago with a NOMAN boat and said mood swings were their biggest obstacle.
"The first day the sunset is beautiful, music is playing and everyone is saying, 'Tristan, thank you so much for this adventure, I really appreciate you asking me, of all the people,"' he recalled. "Then 24 hours later, it's 'Tristan this is the worst idea, please get me off this boat.'"
Unexpected Concerns
Most of the rowers' concerns stem from the unexpected, be it blisters and saddle sores, seasickness or navigating ocean currents. There's also the difficulty of sleeping in the boat's cramped cabins.
"I'm hoping we get to a point where we're so tired that we just fall asleep immediately," said Oivind Lorentzen, a member of Morgan Stanley's capital markets group and another former Stanford crew captain.
Fundraising, much of which has occurred in banks and hedge funds in New York, London and San Francisco, has been helped by the novelty of the race. Rowers said the response from colleagues has been overwhelming, and some, like Murphy and Glynn at Goldman Sachs, are doubly benefiting from employer donation matching.
Lupatkin, a New York City native whose parents are both doctors, said he was attracted to the race in part because of the ties to HPV prevention. In 2010 he biked from Palo Alto, California, to Boston to raise money for AIDS.
"When you grow up hearing about how your parents are helping people, it makes you feel a little silly sitting at a desk all day trading commodities," he said. "It feeds the desire to have a social impact."
All nine rowers have taken classes to prepare themselves for sea survival, first aid and ocean navigation. The row is supported by online currency specialist FairFX and organizer New Ocean Wave, which will operate a nearby support boat should an emergency arise.
If the teams succeed, they'll come ashore in front of friends and family on an island well known for its nightlife. It's also one rower's 30th birthday during the race, so there will be plenty of reasons to celebrate in Ibiza.
"I'd imagine the first night we'll just want to sleep," Murphy said. "But the weekend should be fun."
Before it's here, it's on the Bloomberg Terminal.
LEARN MORE