Singapore Airlines Ltd., PT Garuda Indonesia Ltd. and other carriers canceled hundreds of flights to Bali because of a volcanic eruption nearby, leaving holiday makers stranded and threatening the area's key tourism industry.
Indonesia shut airports in Bali as well as in eastern Java and Lombok island from Thursday night due to the eruption of Mount Raung in East Java. The airports initially were expected to reopen Friday evening, but the country's disaster mitigation agency said Friday afternoon that it couldn't predict when the eruption would end and that the airports' status would depend on how the ash cloud spread.
Ash from the volcano already had disrupted some flights earlier this month, and in the past day winds pushed the ash cloud close to Bali's Denpasar airport again, Jetstar Airways Pty. said in a statement. The island's beaches, surfing, culture and nightlife make it among Asia's most popular tourism destinations, with mid-year traditionally the high season for visitors.
"If it lasts three to four days the impact will be significant," Ngurah Wijaya, chairman of the Bali Tourism Board, said by telephone. "We have to deal not only with cancellations from tourists but also we have to take care of those who are stranded here because they cannot leave."
Garuda, the flag carrier, said Friday that it wouldn't accept bookings for Saturday flights serving Bali or neighboring Lombok. Some 3,000 travelers were stranded Friday in the Bali airport, the Indonesian news site Detik reported.
The closure forced travelers to scramble for alternative arrangements. Bruno Zysman, a Frenchman who flies to Bali every other week for business, had to postpone a meeting Friday. His flight was diverted to Surabaya, East Java, where he had been stuck for more than 12 hours.
"I'm thinking now to go by road to Bali. However, that will take at least 10 hours," said Zysman, chief executive officer of Singapore-based technology firm DominoPOS Pte. "The loss of time is bad, but there's little you can do about an erupting volcano."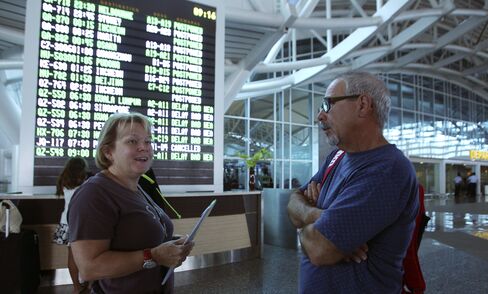 The Indonesian archipelago is lined with volcanoes, and eruptions have often disrupted flights.
In 1982, all four engines on a Boeing Co. 747 plane operated by British Airways Plc. stalled when the plane encountered ash spewed from an Indonesian volcano. The plane fell for almost four miles before the pilot was able to restart three engines and make an emergency landing in Jakarta.
Indonesia's vulcanology center and the energy ministry's geological disaster mitigation division raised the alert status for Mount Raung on June 29. The volcano last had a major eruption in 1956.

Read this next:
Before it's here, it's on the Bloomberg Terminal.
LEARN MORE