Toilet Seat and Diamond Companies Drop in Japan on China Plunge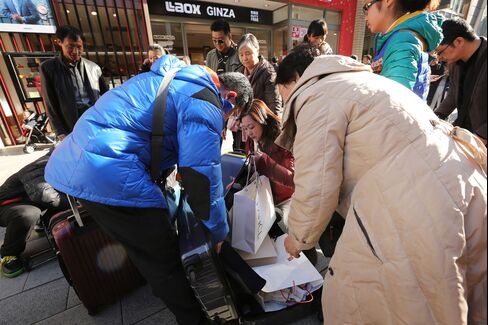 The plunge in China's stock market and concerns about its economic growth are having effects well beyond the nation's borders -- with shares of Japanese companies that benefit from Chinese tourists also declining.
Tourism has boomed in Japan as the yen has weakened, with visitors from mainland China more than doubling in the first five months of this year. Chinese are the biggest spenders, according to a survey by the Japan Tourism Agency, spending big on everything from heated toilet seats to diamond rings.
As Japan's own consumers recover from a sales tax hike last year, spending by foreign tourists was a bright spot for retailers. The loss of $3.9 trillion in Chinese stock wealth this month is raising concerns fewer tourists may come to Japan, and spend less.
"As China's wealth effect gets dented, there's a risk of it pulling down on tourism to Japan," said Koichi Haji, executive research fellow at the NLI Research Institute in Tokyo. "Demand from China has supported domestic demand in Japan."
As much as 70 percent of chain-store operator Laox Co.'s sales are from Chinese tourists, according to Luo Yiwen, the company's president. Their purchases include rice cookers, and toilet seats from companies like Toto Ltd.
Laox's shares tumbled 14 percent since Monday, headed for their worst week in more than two years. Jewelry dealer Komehyo Co., which sells second-hand diamonds in China and other countries, was down 5.8 percent, while Toto dropped 11 percent over the same period. The broader market headed for a 4.4 percent decline.
The Shanghai Composite Index closed up 0.6 percent over the week, having dropped more than 28 percent since its high on June 12.
18 percent of tourists in 2014 were from mainland China, according to the Japan National Tourism Organization, and they spent 28 percent of the 2 trillion yen ($16.5 billion) that tourists spent in the country.
Before it's here, it's on the Bloomberg Terminal.
LEARN MORE