Taiwan Shuts Markets, Offices as Typhoon Chan-hom Approaches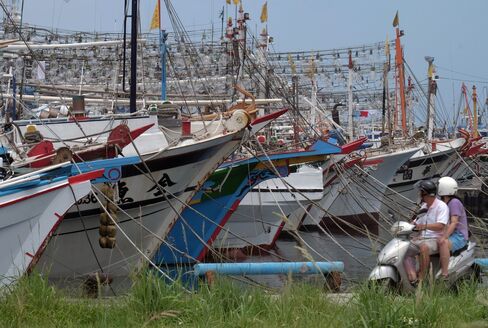 Typhoon Chan-hom is approaching Taiwan, prompting the island to close financial markets, offices and schools on Friday, a day after another tropical storm disrupted the evening commute in Hong Kong.
Chan-hom's approach also led China to recall fishing boats and cancel some train services ahead of the storm's expected arrival in the eastern province of Zhejiang as a super typhoon on Friday night or Saturday morning local time, the official Xinhua News Service reported.
Typhoon Chan-hom had sustained winds of 173 kilometers an hour (107 miles per hour) gusting to 209 kilometers an hour, 290 kilometers northeast of the coast of Taipei at 2:30 a.m. local time on Friday, the Central Weather Bureau said.
Schools and government offices will be closed on Friday in five cities in Taiwan, including Taipei and Taoyuan, the Directorate-General of Personnel Administration said in a statement posted on its website late Thursday. Stocks and bonds won't trade in Taipei on Friday, the Taiwan Stock Exchange said in a text message.
Taiwan's Civil Aeronautics Administration said 19 domestic flights and 18 international flights have been canceled as of 8 p.m., according to a statement.
Hong Kong cut its warning to the second-lowest level at 10:10 p.m. on Thursday as former storm Linfa weakened into a tropical depression and moved away from the city. MTR Corp. resumed train, light rail and bus services, and the Hong Kong-Macau Ferry Terminal reopened.
The Hong Kong Observatory issued the No. 8 Northwest Gale or Storm Signal at 4:40 p.m., the first time the weather agency had raised the third-highest warning this year. As a result, there was no after-hours trading on Thursday, including in futures of the benchmark Hang Seng Index and the yuan, Hong Kong Exchanges & Clearing Ltd. said in a statement.
Linfa was about 140 kilometers (87 miles) west of the city as of 3 a.m. local time Friday, and was forecast to move west-southwest at about 22 kilometers per hour across western Guangdong and continue to weaken, the weather bureau said.
Before it's here, it's on the Bloomberg Terminal.
LEARN MORE