T-Mobile Adds 2.1 Million Users, Free Mexico, Canada Roaming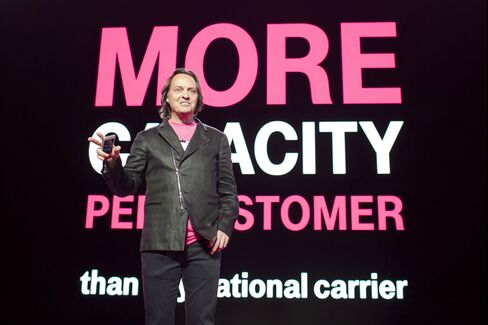 T-Mobile US Inc., seeking to overtake Sprint Corp. as the country's third-largest wireless carrier, said it gained 2.1 million customers last quarter and will add Canada and Mexico to its roaming plan.
The subscriber additions brought the total to 58.9 million users, Bellevue, Washington-based T-Mobile said in a statement Thursday. Branded new monthly phone users, a measure more closely watched by investors, reached 760,000 in the second quarter, the company said, citing preliminary figures.
Customers with T-Mobile's Simple Choice plan will now get coverage and calling in Mexico and Canada at no extra charge. That move may push Sprint, AT&T Inc. and Verizon Communications Inc. to follow suit even though it could cost the carriers several billion dollars in revenue, according to Roger Entner, an analyst at Recon Analytics LLC in Dedham, Massachusetts.
"We'll see AT&T move ahead with its plan to offer that U.S.-Mexico calling area," Entner said, referring to the wireless service zone AT&T is building across both countries. In the meantime, AT&T may offer free roaming to its users and that could come "within days or weeks," he said.
Sprint, with its "heavy emphasis on Hispanics," may also try to match the offer, Entner said. Sprint is working on a roaming plan for Canada, and offers a two-week international pass in Mexico starting at $15, spokeswoman Kristin Wallace said in an interview.
AT&T spokesman Fletcher Cook declined to comment, as did Verizon spokeswoman Debi Lewis.
Rivals Challenged
Under Chief Executive Officer John Legere, T-Mobile has challenged the wireless industry to match its sales offers such as contract buyouts and free music streaming. The company is about 66 percent owned by Deutsche Telekom AG of Germany.
T-Mobile shares rose 0.8 percent to $38.77 at the close in New York. It has climbed 44 percent this year, compared with a 2.4 percent gain by AT&T and a 1.1 percent drop for Verizon.
Earlier this year, AT&T bought NII Holdings Inc.'s Nextel Mexico wireless business and the Mexican wireless carrier Grupo Iusacell SA to further its expansion south of the border.
"Mexican and Canadian carriers are scared senseless by AT&T entering Mexico," Entner said. "And in order to thwart and to blunt AT&T's entry into Mexico, they basically made an agreement with T-Mobile."
The move could appeal to T-Mobile subscribers, as 59 percent of their international calls already go to Mexico and Canada, the company said. To enable the feature, T-Mobile struck reciprocal agreements with carriers in both countries. Its competitors may have trouble finding similar good deals, Entner said.
"The new arrangements with partners lower our costs," T-Mobile Chief Operating Officer Mike Sievert said in an interview. "Free is our favorite price point."
Before it's here, it's on the Bloomberg Terminal.
LEARN MORE