Serena Williams One Step Away From Reaching Tennis Peak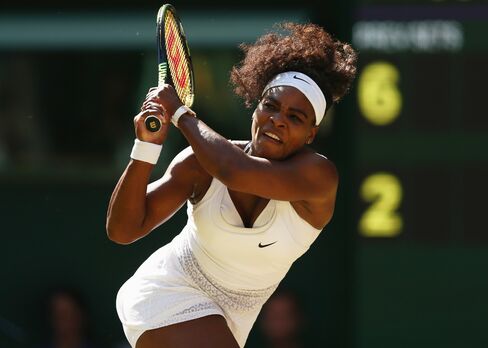 Serena Williams has one more mountain to climb.
After 27 grand slam wins in a row and three major titles, the 33-year-old American is one step away from making more tennis history. To complete the "Serena slam" of four consecutive majors for a second time, she will play Garbine Muguruza, a Spanish upstart with a big serve and nothing to lose, in the Wimbledon final Saturday.
"It's match after match at every grand slam," Patrick Mouratoglou, Serena's coach, said in an interview at Wimbledon after Williams overwhelmed former winner Maria Sharapova 6-2, 6-4 in the semifinals. "You don't look at the top of the mountain, you look just above and you step up, up, up and you see where it leads."
Britain's Andy Murray, the 2013 champion, faces seven-time winner Roger Federer of Switzerland in Friday's men's semifinals, while defending champion Novak Djokovic of Serbia plays France's Richard Gasquet.
Muguruza, a 21-year-old who didn't like grass much when she was growing up, defeated Poland's Agnieszka Radwanska 6-2, 3-6, 6-3 to move to her first major final. Having beaten Williams 6-2, 6-2 in the second round of the French Open last year, she's ready for what 18-time major winner Chris Evert called "the greatest of all time."
'Terrible Day'
Although Muguruza said it was a "dream" to become the first Spaniard since Arantxa Sanchez Vicario in 1996 to reach the Wimbledon final, she added "I really want to win."
Williams had "a terrible day" at last year's French Open, Mouratoglou said.
"She was not in a good space, she had not been playing well for a few months," he said. "So she was not the Serena that you see now at all. Muguruza had a tactic that she applied perfectly and she played the best match of her career probably that day. When everything is set together, this can happen."
Playing for the Wimbledon title is going to be a different challenge.
"It's more about the game plan and the emotional side, how is Muguruza going to come to the court for her first grand slam finals?," he said. "Will she be pumped, or will she be stressed too much? If both play to win, then we'll see who is the best one."
Williams, who fired 13 aces and never faced a breakpoint against Sharapova to extend her streak to 17 wins against the Russian, isn't underestimating her next opponent.
Williams called her defeat to Muguruza in Paris last year "an eye-opening loss," which made her a better player.
"I learned so much from that," Williams said in a news conference. "It was really an experience that helped me say 'OK, Serena, if you want to be the best, you have to change certain things.'"
50-50 Chance
Former Wimbledon finalist Olga Morozova said Muguruza's chances of pulling a big upset were "50-50."
"Radwanska is not easy to play, because she knows how to destroy the game of the other person," Morozova, a former coach of the Soviet Union national team who used to guide 2008 Olympic champion Elena Dementieva, said in interview at Wimbledon. "But Muguruza actually didn't let her do that. She was fighting and was ready for every shot. She also served well. She showed a little bit of nerves when she was double-faulting, but still she came back and played well. If she plays the way she did today, we will have match."
Williams, who has declined to answer questions about the Serena slam or the calendar-year slam, is ready for a battle.
"We had a tough match the last time we played," Williams said. "And she's given me problems in the past. I don't think she's intimidated at all."
Before it's here, it's on the Bloomberg Terminal.
LEARN MORE