Williams Beats Sharapova to Play Muguruza in Wimbledon Final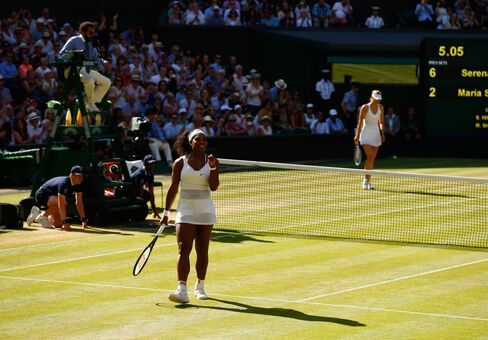 Serena Williams's 11-year domination of Maria Sharapova continued as she beat the Russian for the 17th time in a row to reach the Wimbledon finals.
Williams, the top seed from the U.S., defeated the five-time grand slam winner 6-2, 6-4 to move to her first final of the grass-court tennis tournament since 2012.
"I got a little nervous out there today," Williams said in a post-match interview after she slammed 13 aces and never faced a break point. "It's been a long time since I got this far here."
The 33-year-old, who is seeking her 21st grand slam title and second "Serena slam" of four majors in a row, plays Garbine Muguruza for the trophy Saturday. Muguruza, 21, became the first Spaniard to reach the Wimbledon championship match since Arantxa Sanchez Vicario in 1996 by beating 2012 finalist Agnieska Radwanska 6-2, 3-6, 6-3.
After dropping the opening game with two double faults, Sharapova got broken again in the fifth game as Williams ripped the returns straight back at her feet. Just like in most of their previous matches, Sharapova couldn't get a grip on her opponent's serve. Williams took the first set in 33 minutes, as she produced seven aces, including one at 120 miles per hour (193 kilometers-per-hour).
Since having shoulder surgery in 2008, Sharapova has at times struggled with her serve. The shot let her down at 2-2 in the second set, when she hit her 43rd double fault of the tournament to get broken. The Russian had until that point struck 17 aces at Wimbledon.
Whenever Williams was under pressure, she was able to rely on her serve, called the best shot in tennis by former champion John McEnroe. Leading 4-3, 15-30, Williams won three straight points to hold.
After squandering a match point on Sharapova's serve with a forehand wide after a long rally, Williams hit an ace, followed by a double fault and then two more aces to set up two match points. She moved to the final with a service winner.
"She's able to come up with the goods from that serve when she's down," Sharapova said after the match. "Obviously when she's ahead, it makes it a lot easier for her. You have to be able not to just produce your best tennis, but more."
Muguruza Match
Although Williams leads Muguruza 2-1, the Spaniard upset the 20-time grand slam singles winner in the second round of Roland Garros last year, granting her only four games.
"She made me improve," Williams said. "She has me on my toes."
Earlier Thursday, Muguruza overcame a second-set attack of nerves to reach her first major final. She had been leading by a set and 3-1 before dropping six games in a row.
"I worked all my life to achieve this moment," the 20th-seeded Muguruza said, after falling onto the grass in disbelief after her win. She added she had been "pretty nervous" in the second set.
Muguruza had shown no nerves at the start of the first major semifinals of her career, racing to a 4-1 lead as she overpowered the experienced Radwanska with booming serves and powerful ground strokes. After she missed two set points at 5-2, she took the set with a service winner in just 34 minutes.
Radwanska, whose guile and angled shots had dismantled the hard-hitting Madison Keys in the previous round, couldn't find an answer early on in the second set, dropping serve in the opening game after a drop-shot attempt was punished with a cross-court backhand that she failed to control.
Leading 3-1, Muguruza's game seemed to fall apart. Radwanska won the second set, and got a break in the opening game of the final set with low sliced shots, sharp angles and drop shots.
The momentum shifted when Muguruza broke back immediately and then again to take a 4-2 lead. Serving for the Wimbledon finals, Muguruza struggled to get a first serve in. After saving two break points, she was handed a match point after Radwanska stopped the rally to challenge a baseline call. The ball was in, and Muguruza moved to the Wimbledon finals with a big serve and forehand drive volley combination.
Williams may be chasing history, none of that matters for Muguruza.
"It's going to be a dream, being in the finals of Wimbledon, but I really want to win," Muguruza said.
Before it's here, it's on the Bloomberg Terminal.
LEARN MORE