Record London New Home Prices 'Supercharged' by Mansions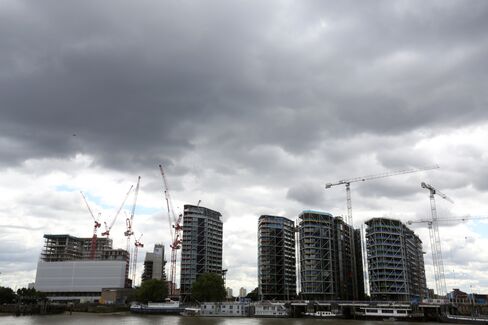 New homes are fetching record prices in London even as the city's wider housing market slows.
The average sale price of brand-new properties in the U.K. capital breached 1,000 pounds ($1,540) a square foot for the first time, according to property magazine Estates Gazette. Values rose 11.5 percent in the 12 months through March as developers built more homes in the most expensive areas including Kensington, Chelsea and Camden.
"The ripple effect generated by the supercharged prime areas of the capital is pushing prices up on the fringes and on the fringe of the fringes," said Nigel Evans, head of London residential research at Estates Gazette. "The number of super prime units may be small, but their effect is considerable."
Values are down when existing homes are included, with the government's London home-price index dropping 1.6 percent since its peak in August as high prices, rising taxes and borrowing restrictions curb demand. Annual property gains in the U.K. capital weakened to 4.3 percent in April from 11.2 percent in March, the data show.
Berkeley Group Holdings, London's largest homebuilder, is one developer that marketed higher-value units. It sold 3,355 new homes in the 12 months through April, almost 400 less than a year earlier. Still, revenue from home sales rose 25 percent during the period after Berkeley's average transaction price rose by 152,000 pounds to 575,000 pounds during the same period.
Mortgage borrowers who bought a new home in London in the first quarter typically earned 96,000 pounds, the same as the average price paid for a home in the capital in 1996, according to government statistics.

Read this next:
Before it's here, it's on the Bloomberg Terminal.
LEARN MORE