Queens Condos Set Record as Manhattan Buyers Priced Out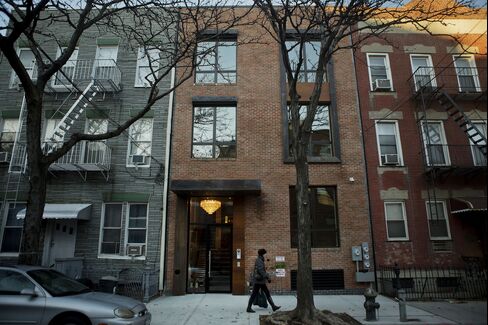 Condominium prices in New York's Queens jumped to a record in the second quarter as soaring values in Manhattan sent buyers fanning out across the city's boroughs in search of properties they could afford.
The average price of a Queens condo sold was $575,339, up 20 percent from a year earlier, according to a report Thursday from appraiser Miller Samuel Inc. and brokerage Douglas Elliman Real Estate. In Long Island City, a neighborhood just across the East River from Manhattan better known for its rental towers, the average price rose 28 percent to $1.06 million.
Demand to own homes in the outer boroughs is climbing as Manhattan apartments reach their own new highs, further shutting out cost-sensitive buyers. In Brooklyn, the average sales price climbed 0.7 percent to a record $788,529 in the second quarter, extending a surge in values amid the area's growing appeal as a hip place to live.
"This is the search for affordability," said Jonathan Miller, president of Miller Samuel and a Bloomberg View contributor. "Queens is benefiting from Brooklyn's success, Brooklyn is benefiting from Manhattan's success. Next is the Bronx."
The average sales price of all homes in Queens climbed 9.1 percent from a year earlier to $452,304, while the number of transactions increased 5.6 percent to 2,539. In Brooklyn, sales fell 17 percent from a year earlier to 1,735 properties, hampered by inventory below historical averages.
Relative Pricing
Brooklyn, the most populous borough, remains an affordable alternative compared with Manhattan. Only 34 percent of apartment listings in Manhattan were below $1 million, while in Brooklyn 78 percent of all listings in the quarter were beneath that threshold, brokerage Corcoran Group said today in a separate report.
"It boils down to one thing: people need housing," said Frank Percesepe, a senior vice president at Corcoran Group who oversees Brooklyn sales. "If we have apartments under a million, a lot of buyers are able to participate in the dream of owning a home," he said.
Corcoran reported that the median price of Brooklyn homes was $575,000 in the quarter, the highest in more than five years, as the number of sales in newly built developments climbed 78 percent.
In a separate report, brokerage Brown Harris Stevens said Brooklyn pricing reached high-water marks across three measures. Average and median apartment prices set records at $687,203 and $558,858, respectively. The price of one-to-four family homes rose to a high of $953,885, the brokerage said.
'Destination' Market
"It's still a more affordable alternative for a lot of people," said Gregory Heym, chief economist for Brown Harris's parent company, who prepared the report. "Plus, it's a destination. People know they want to live there."
In Brooklyn, the quarter's sharpest price increases were in the Bedford-Stuyvesant, Crown Heights, Lefferts Gardens and Bushwick neighborhoods, Corcoran said in its report. The median price of residences sold in those areas, which are about a 40-minute subway ride from midtown Manhattan, jumped 48 percent from a year earlier to a median of $605,000.
In the area the includes Fort Greene and Prospect Heights, prices climbed 14 percent to a median of $677,000 as the number of sales declined 20 percent, according to Corcoran.
Less Time
Brooklyn homes didn't linger long on the market in the second quarter. Properties spent an average of 73 days on the market before finding a buyer, 33 percent less time than a year earlier and the fastest in records dating back to the first quarter of 2008, Miller Samuel and Douglas Elliman said.
"We're at one of those times right now where sellers feel incredibly empowered," Heym said.
In Queens, sales took an average of 92 days in the quarter, compared with 110 days last year. Sellers there felt no need to pare their asking price, with fewer than 1 percent of all deals closing at a discount, Miller Samuel and Douglas Elliman said.
"The Queens records are sort of an extension of the Brooklyn price growth," Miller said. "It could be somebody who wants to buy a condo in Brooklyn, can't afford it, and they buy in Queens."
Before it's here, it's on the Bloomberg Terminal.
LEARN MORE