Osborne's Dream of British 'Makers' Kept at Bay by Strong Pound
George Osborne's plan to steer Britain's recovery away from domestic consumer spending is being thwarted at every turn.
First hampered by recession in the euro area, the U.K.'s biggest market, manufacturers are now up against the pound at a seven-year-high, while Greece's debt crisis is further clouding the outlook for the currency region.
The external recipe means the factory-powered pickup the chancellor of the exchequer described as the "march of the makers" in 2011 has yet to materialize. Manufacturing is lagging the broader economy, barely growing in the past four years even as services surged, and its annual performance in the past three months was the worst since 2013.
In the past two weeks, the British Chambers of Commerce has warned of a "two-tier" economy. At the same time, productivity remains weak, an issue the chancellor will address in a report on Friday. In a statement before the release, Osborne said productivity is the "challenge of our time" and would be a priority for the government.
Bank of England Chief Economist Andy Haldane has highlighted the impact of the strengthening pound on demand. For companies such as SPP Pumps Ltd., which makes centrifugal pumps for the energy, water and power generation industries, this economic environment is a concern.
European Demand
"Demand in Europe is becoming difficult," said Ken Winn, head of manufacturing, engineering and supply chains at SPP. "We're still selling product, but it's becoming much more difficult with the exchange rate. It stops us getting orders, but it also hits our margins, because we do try and react."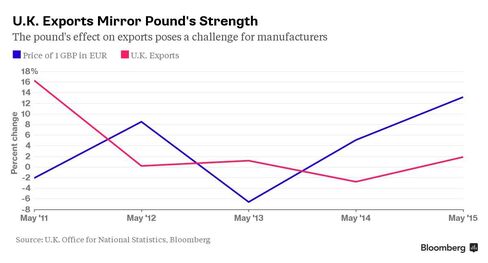 The pound rose for a second day against the dollar on Friday and was up 0.9 percent to $1.5510 as of 11:35 a.m. London time. It weakened against the euro, though is still up almost 8 percent this year. The BOE's effective exchange rates index is up almost 5 percent and reached the highest since July 2008 last month.
Investors are betting sterling strength will persist; the premium for three-month contracts to buy the pound versus the euro has widened to 1.1 percentage points from 0.7 a month ago.
Osborne announced the review of productivity in his Budget on Wednesday. At the same time, the Office for Budget Responsibility cut its 2015 export forecast, even without the "potentially disruptive events unfolding in Greece."
The OBR also said the government will miss its 2020 target for 1 trillion pounds in goods and services exports by a third.
Currency Handicap
"U.K. manufacturers' ability to capitalize on improved domestic demand in the euro zone seems to have been severely handicapped by sterling's strength," said Howard Archer, an economist at IHS Global Insight in London. "Until the situation regarding Greece becomes clearer, you could see some increased caution for buying big-ticket manufacturing items."
The economy of the 19-nation euro region grew 0.4 percent in the first quarter and an index of business activity has since risen to a four-year high.
But recent U.K. data highlight reasons for concern. Factory output fell for a second month in May and an industry survey suggests weakness persisted in June. In the first quarter, when net trade was a drag on economic growth, goods exports to the euro region fell 7 percent. Still, a report on Friday showed the trade deficit narrowed to the least in almost two years in May, suggesting trade may contribute to growth in the second quarter.
"With two-thirds of U.K. exports destined to Europe overall and over half to the EU-28 specifically, the U.K. is heavily exposed to any contagion within Europe resulting from the Greek crisis," said Media Eghbal, head of countries' analysis at research firm Euromonitor International.
Infrastructure Deficit
In the BCC's analysis, manufacturing is also being held up by a lack of incentives to invest, underinvestment in infrastructure and insufficient aid for businesses to tap new overseas markets. "Currency fluctuations are not the only issues," BCC Director General John Longworth said.
Osborne's other Budget announcements included a levy on large businesses for apprenticeships, more generous tax breaks for investment in plant and machinery and a new fund for road building. That follows anger over delays to projects including airport expansion in London.
In his report on Friday, he will add proposals for higher education, transport, trade, long-term investment and tax. The Treasury said the reforms are designed to "encourage long-term investment and promote a more dynamic economy."
"I find it really disappointing that we have lost so much manufacturing," said Winn at SPP. "That is one of the things that actually drives me on, because I think we should have more of that added-value activity in the economy."
Before it's here, it's on the Bloomberg Terminal.
LEARN MORE