MasterCard Inc. faces fines after European Union antitrust regulators sent a formal complaint raising concerns over "artificially high" card-payment fees.
The EU's statement of objections targets measures thwarting cross-border competition among banks that offer card services to retailers as well as excessive fees when foreign visitors go shopping in the 28-nation bloc, the European Commission said in an e-mailed statement on Thursday.
"We currently suspect MasterCard is artificially raising the costs of card payments, which would harm consumers and retailers in the EU," said EU Competition Commissioner Margrethe Vestager. The commission said that if its "preliminary view is confirmed, it can impose a fine on MasterCard."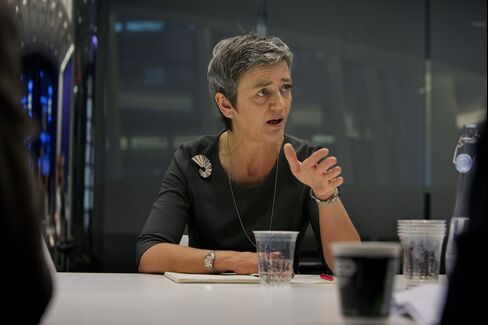 EU antitrust regulators have targeted swipe fees on credit-and debit-cards for more than a decade, warning that the way the charges are collectively agreed on is anti-competitive. Visa Europe Ltd. has also tussled with the Brussels-based commission over its fees system. Last year, it pledged to cut levies for processing credit card payments in a settlement with the EU that would reduce charges by 40 percent to 60 percent.
Amid a regulatory clampdown, the EU has passed a law that would cap interchange fees on card payments and cut costs by 6 billion euros ($6.6 billion) per year. MasterCard was previously accused by the EU of waging a "mad campaign" seeking to derail the rules.
Cross-Border
The latest EU case, opened in 2013, targeted excessive fees when foreign visitors go shopping in the EU, as well as measures thwarting cross-border competition among banks that offer card services to traders.
"When it comes to foreign cards, that's quite significant for a number of retailers, particularly those working in large cities that have a high volume of tourism," said Christian Verschueren, director general at EuroCommerce, a group representing European retailers including Ikea Group, Carrefour SA and Tesco Plc, which has backed the commission's stance in the case.
MasterCard said on Thursday it will respond to the EU complaint and is working with the commission "as part of an ongoing constructive dialog."
"Throughout this procedure we have kept the needs of both consumers and merchants in mind and aim to further encourage the uptake of electronic payments inside and outside the European Union," Purchase, New York-based MasterCard said.
Lower Fees

Read this next:
The EU's antitrust complaint alleges MasterCard's rules prevent banks from offering lower interchange fees to retailers based in another EU state, where levies may be higher.
The commission also said MasterCard's levies for EU-based transactions with cards issued outside the region set an artificially high minimum price for processing payments.
"For example, the fees paid by an acquiring bank when a Chinese tourist uses his card to pay his restaurant bill in Brussels are up to five times higher than those paid when a consumer uses a card issued in Europe," the commission said.
The commission said the risk is higher prices for retailers and in turn higher costs for consumers.
Retailers have campaigned for years against interchange fees, saying that they push up the final costs of goods and services, and amount to a hidden charge on consumers. Card companies insist that the fees ensure that retailers make a fair contribution to the underlying costs of electronic payment systems.
A statement of objections allows the EU to set out its case, laying out where officials suspect a company has violated competition rules and citing evidence from complainants. Companies have a chance to respond in writing.
Before it's here, it's on the Bloomberg Terminal.
LEARN MORE