Londoners took to bicycles, buses, boats and trains as a walkout by the city's subway workers resulted in the first complete shut-down of the Tube in more than a decade.
Twice the usual number of people rode to work on rental cycles known as Boris bikes for their introduction by London's mayor, while Transport for London ordered 200 more buses into action, together with extra boat shuttles on the River Thames.
While millions left home early Wednesday to beat the strike, public transport quickly became packed to bursting, with long lines at bus stops and crowded platforms at railway stations. The action ends tonight, though subway services won't resume until Friday, with some residual disruption even then.
Orlando Green, a fixed-income strategist at Credit Agricole SA in the City financial district, swapped his usual Tube journey from Fulham in west London for a six-mile bus trip that took in many of the capital's top tourist sites -- but made his commute longer by 20 minutes or almost 50 percent.
https://twitter.com/TfL/status/619039604142964736
"It's a pleasant ride, but I don't do it every day because it takes an hour," Green said by phone, adding that while he can work from home, "ideally it is good to be in."
Most buses became packed soon after leaving the depot, sweeping past stops further into their journeys. The 168 double-decker from Hampstead Heath to Waterloo station, often close to empty at 7:15 a.m., was crammed by Belsize Park, just a short distance into its routes.
Stockpiled
London's public-bicycle service, sponsored by Banco Santander SA, allows people to rent bikes and return them to docking stations across the city. Bays in outlying areas were emptied this morning, and cycles were being stockpiled in central areas this afternoon in anticipation of a surge in demand as people look for ways to get home.
While some Londoners worked remotely, for others it wasn't an option. Sales and trading staff at financial institutions generally need access to multiple screens, booking systems and pricing functions. Investment bankers can more easily log on from home, but may need to see confidential papers that can't leave the office.
https://twitter.com/MayorofLondon/status/618776868393775104
"It's been very busy today, particularly on the bus and road networks, although many people are traveling outside peak hours and walking and cycling," Steve Griffiths, London Underground's chief operating officer, said in a statement. "We are, as we always have been, ready to talk at any time."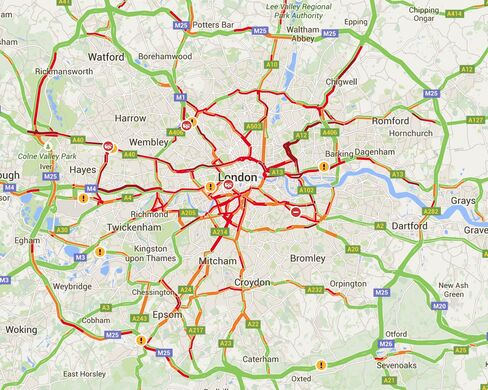 Night Service
TfL said it won't be possible to run trains tonight once the strike ends. Overground rail, trams and the Docklands Light Railway are all running as normal.
The walkout went ahead after talks between London Underground and unions failed to reach an agreement on pay for running a new night service proposed by Mayor Boris Johnson.
London's subway has endured a series of disruptions over the past 18 months -- including a 48-hour walkout last year that drove away almost 50 percent of the passengers -- after Johnson announced plans to introduce 24-hour running and boost daytime frequencies, while closing some ticket offices.
https://storify.com/MartinaAndretta/london-tubestrike
Londoners "overwhelmingly back the Night Tube," which will run on Fridays and Saturdays on five lines, according to Griffiths, who said that staff affected will need to work a few extra nights a year, with no extra hours.
In return, the company is offering a 2 percent average pay increase this year, followed by a raise equal to inflation or 1 percent -- whichever is higher -- in 2016 and 2017. There'll also be a 500-pound ($772) bonus for all staff on Night Tube lines and 2,000 pounds for train operators, it said.
The RMT said LU's offer of a lump sum to a minority of workers is a "cynical" bid to play individuals off against each other. It added that the deal would be "financed off the back of the proposed axing of over 800 safety-critical station jobs" as station staff are cut and ticket offices closed.
The Tube has 270 stations, with 57,000 people using the busiest, Waterloo, during the three-hour morning peak. Passengers typically make 3 million daily journeys.

Read this next:
Before it's here, it's on the Bloomberg Terminal.
LEARN MORE