Hot German Homes Get Too 'Speculative' for Berlin Landlord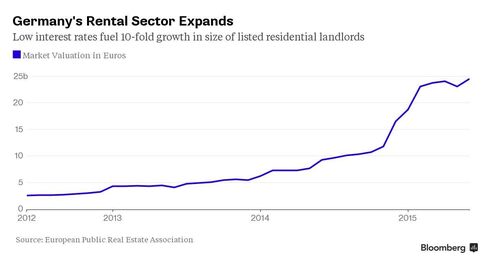 Germany's housing market is becoming prohibitively expensive and it's time to prepare for a downturn, according to the head of the country's second-largest landlord.
While some investors are willing to outbid each other in a bet that home values will continue to rise, rents don't justify the prices being paid, Deutsche Wohnen AG Chief Executive Officer Michael Zahn, 52, said in an interview. Instead, the Berlin-based company is scaling back acquisitions and refinancing debt.
"There's a limit to how much I'm willing to pay," said Zahn, who has almost tripled the company's portfolio to 150,000 apartments in three years. "Opportunities to refinance right now are much more attractive than acquiring."
The German publicly held residential sector, now dominated by Deutsche Wohnen and its main competitor Deutsche Annington Immobilien SE, has grown tenfold since 2012 as new companies raised money in stock offerings, bought rivals and accumulated apartments. Deals have been financed with record levels of debt and share sales as companies take advantage of low interest rates and strong demand for real estate from international fund managers.
Deutsche Wohnen, Berlin's biggest landlord with 107,000 apartments in the city, has added fewer than 8,000 homes there this year. It paid about 1,200 euros ($1,325) per square meter, 50 percent more than the average price 5 years ago, Zahn said.
Germany's real estate market is still tamer than other countries in the region. Home prices in Europe's largest economy rose 3 percent last year, according to data compiled by the VDP Association of German Pfandbrief Banks. That compares with a gain of almost 8 percent in the U.K.
Rejected Bid
In April, Deutsche Wohnen's 980 million-euro offer for Conwert Immobilien Invest SE's 30,000 German and Austrian homes was rejected by shareholders as too low. The company is bidding for another 10,000 units, mostly in Berlin.
"I could have done the Conwert acquisition -- we just would have had to pay more," he said. "Anyone who says they can double their portfolio or do 1 billion euros of deals per year in this market is being speculative."
Deutsche Annington has grown more aggressively. It bought 160,000 apartments across Germany this year to reach 370,000, fueling speculation that its next target may be Deutsche Wohnen. Zahn said a merger wouldn't make sense at the moment because their strategies are too different. However, he wouldn't oppose a deal if the transaction would benefit shareholders.
More Consolidation
"The sector needs to consolidate more," he said. "Once markets start to normalize and investor flows into real estate get scarcer, size will be more important. I won't resist a merger if it makes sense from a strategic and capital-markets point of view."
A spokeswoman for Deutsche Annington declined to comment.
Deutsche Wohnen and Deutsche Annington have fallen in Frankfurt trading in the past three months, following a rally in 2014, as both companies sold record amounts of new stock and German government bond yields began to rise.
Deutsche Wohnen shares rose as much as 3.7 percent on Friday and were up 1.6 percent at 22.10 euros at 10:45 a.m.
"We have very high volatility because investors aren't focused on fundamentals," Zahn said. "People are constantly debating where interest rates are headed, whether Greece will exit the euro, how inflation is developing. It's all completely speculative."
German property stocks will likely remain dominated by those concerns for the rest of the year, he said.
As opportunities for acquisitions dwindle, Deutsche Wohnen is looking for other ways to improve profits, including renovating apartments to increase values and rents, and focusing more on development. The company is about to finish building 103 apartments in the eastern Germany city of Potsdam this summer, its first construction venture, and has applied for permits to build 600 in Berlin's Westend district.
"When external growth is limited, you have to focus more on organic growth," he said. "Doing deals on the basis of 'sure, prices will be higher in 10 years,' that's not my thing."
Before it's here, it's on the Bloomberg Terminal.
LEARN MORE